Ford has unveiled its all-new Focus ST. Developed by Ford Performance, the hatchback will be offered with a 2.3-liter EcoBoost gasoline or a 2.0-liter EcoBlue diesel, which generate 280ps and 190ps respectively.
The 2.3-liter EcoBoost all-aluminum engine is the most powerful ever offered for a Focus ST, using advanced turbocharging technology to deliver 280ps power at 5,500rpm and 420Nm of torque from 3,000rpm to 4,000rpm.
Engine response has also been enhanced thanks to a low-inertia twin-scroll turbocharger, which scavenges exhaust gas energy more effectively using separated channels to minimize interference between gas pulses.
An electronically actuated waste-gate allows for closer control of boost pressures for optimized engine performance. In addition, the exhaust system reduces backpressure, and engine breathing is improved thanks to a bespoke air intake system and optimized intercooler.
The anti-lag technology that was originally developed for the GT and F-150 Raptor pickup is also introduced to the latest ST, keeping the throttle open when the driver lifts off the accelerator pedal, alleviating the reversal of airflow from the turbo to maintain compressor wheel speed and enabling boost-pressure to build faster on demand.
In addition to the 2.3-liter gasoline unit, Ford's latest ST will get a 190ps 2.0-liter EcoBlue engine – the most powerful diesel engine ever offered for a Ford Focus model, delivering peak power at 3,500rpm and 400Nm of torque between 2,000rpm and 3,000rpm.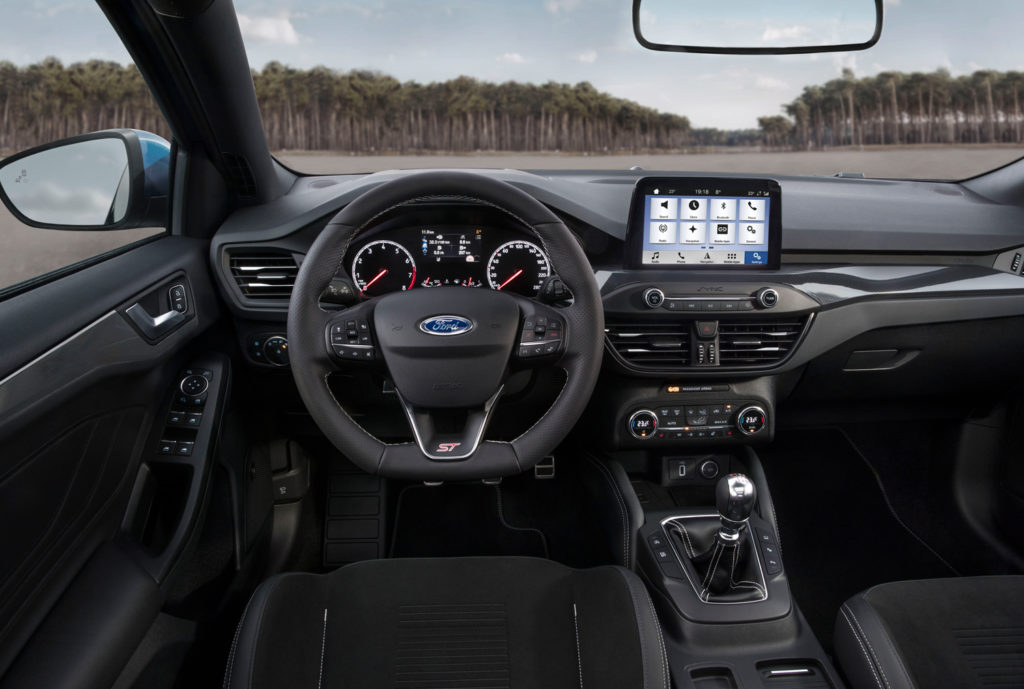 The diesel variant features a low-inertia variable geometry turbocharger; steel pistons to minimize expansion when hot; and an integrated intake system with mirror-image porting for optimized combustion.
Paired with the two units is the company's 6-speed manual transmission, which now enables more urgent gear-changes, with a shift-throw reduction of 7% compared with the standard Focus.
Ford's new rev-matching technology that debuted on the new Ford Mustang is also introduced as part of an optional Performance Pack for 2.3-liter EcoBoost manual models.
Delivering smoother, faster downshifts, the technology is accompanied by a shift indicator light, and uses the engine's electronic control system to briefly 'blip' the throttle as the driver engages a lower gear – matching the engine rotation speed to that of the gear that is being selected.
Rev-matching enables less-experienced performance drivers to benefit from the seamless, momentum-maintaining gearshifts delivered by the 'heel and toe' driving technique, while also enabling experienced performance drivers to deactivate the system if they prefer.
Gear differentiation on the new 7-speed variant of Ford's automatic transmission is optimized for performance, and Adaptive Shift Scheduling – which assesses individual driving styles to optimize gearshift timings – is enhanced to offer more flexibility and the ability to differentiate between road and track
 use. Drivers can select gears manually using steering wheel-mounted paddle-shifters.