German OEM, Audi, has announced that a revised variant of its 2-liter TSFI engine will form the heart of its SQ2 compact SUV. Capable of 0-100km/h in 4.8 seconds, the SQ2 has been developed by Audi engineers and built in Győr, Hungary.
The 1,984cc TFSI in the SQ2 will output a maximum of 305ps and a constant 400Nm of torque between 2,000 and 5,200rpm. This enables a limited top speed of 250km/h, from an engine that weighs just 150kg, benefiting not just the total weight, but the axle load distribution.
Numerous high-tech features hone the four-cylinder's profile. The intake and exhaust camshafts are adjustable to optimize fill and gas exchange. On the exhaust side, the Audi valve-lift system adjusts valve lift in two stages based on demand. This reduces flushing losses in the combustion chamber and ensures optimal flow of exhaust gas to the turbocharger, particularly in the low RPM range.
The advantages of this are agile engine response and a further increase of torque. Controlled by a fast and precise electric overflow valve, the turbocharger is designed to develop its maximum boost of 1.4 bar dynamically. This engine management system enhances efficiency and reduces fuel consumption during operation under part load.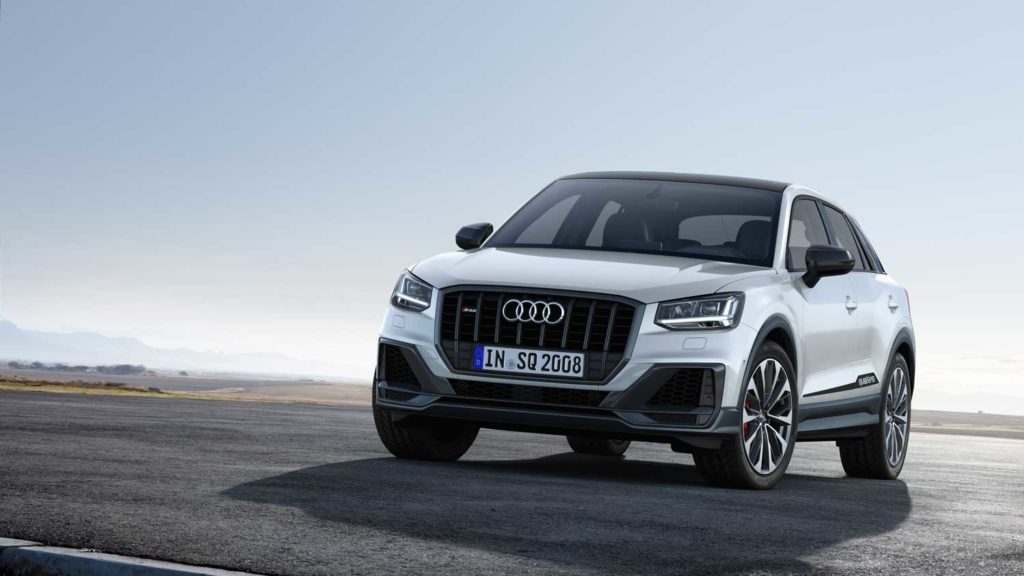 Efficiency is also a major focal point with the 2-liter unit. Two electric-powered rotary valves consolidated into a module regulate the coolant flows. Another major component of the thermal management system is the exhaust manifold integrated into the cylinder head, which helps the engine to warm up quickly.
Targeted measures implemented in many components increase strength and reduce internal friction. The regulated oil pump requires little drive energy. Under part load, the engine management system deactivates FSI gasoline direct injection. Instead, fuel is injected indirectly into the intake manifold, which reduces particle emissions. A particle filter also cleans the exhaust gas.
Paired to the OEMs seven-speed S tronic transmission, the two clutches are bathed in oil. A small, mechanically driven gear pump supplies the oil. At elevated demand, a second, electrically driven pump is activated. This efficient oil supply and the low friction of the individual components result in high efficiency.