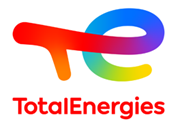 TotalEnergies makes history by incorporating an immersion-cooled battery into a road-going vehicle
The cooling of lithium batteries by immersion is regarded as the optimum solution to the challenges posed by ultra-fast charging, with the most powerful charging stations (up to 350kW DC) generating heat fluxes that existing cooling systems struggle to handle.
Car makers and battery manufacturers have been greatly impressed by the performance of this TotalEnergies-developed technology, but a number of question marks mean there are no plans to mass-market it, in the short-term at least.
Indeed, changing the battery cooling technology in an electric vehicle represents a considerable step. This paradigm shift in technology not only has an impact on design, development guidelines, energy strategy and cooling control, but it also affects safety. Test projects are already underway, but this technology has to-date only been trialled in prototypes. However, TotalEnergies engineers have managed to implement an exception.
A world-first – a road car fitted with immersion technology
In order to support the development of this technology, TotalEnergies decided to apply it for the first time in a road-going car, replacing the battery cooling system in a Volvo XC90 plug-in hybrid with an immersion alternative. In performance terms, the result was immediate: faster charging, better cooling, enhanced safety and lower cost and mass, without in any way needing to modify the design of either the battery or the vehicle.
This allowed a direct comparison between the advantages offered by immersion cooling and by more conventional cooling methods, supported by data collected for the first time from a mass-produced vehicle rather than relying solely on simulations. As it can be seen in Illustration 1 below, the cooling system was replaced with minimal mechanical modifications. The architecture of the vehicle was respected, and the battery remains the same. The only differences to be found were in the components needed for immersion cooling, or where it was necessary to make them compatible with the dielectric fluid. The potential of the on-board charger, by contrast, increased from 3.7kW to 22kW.
This transformation enabled TotalEnergies to demonstrate that immersion cooling meets the new specifications required for high-power applications.
Conclusive cooling results
The information harvested during the various tests conducted revealed that cooling capability was seven times more effective when using the technology developed by TotalEnergies. Illustration 2 shows how a simpler integrated system can reduce mass by 6% and cost by 4% on this vehicle.
The overall safety and durability of the lithium cells are also enhanced by the high performance of TotalEnergies fluids.
In conclusion, we can confidently predict that immersion cooling for lithium batteries will be a key technology of the future. It perfectly addresses the challenges of the next generation of electric cars, whose batteries are expected to be more powerful, safer and longer lasting.
[caption id="attachment_12632" align="aligncenter" width="702"]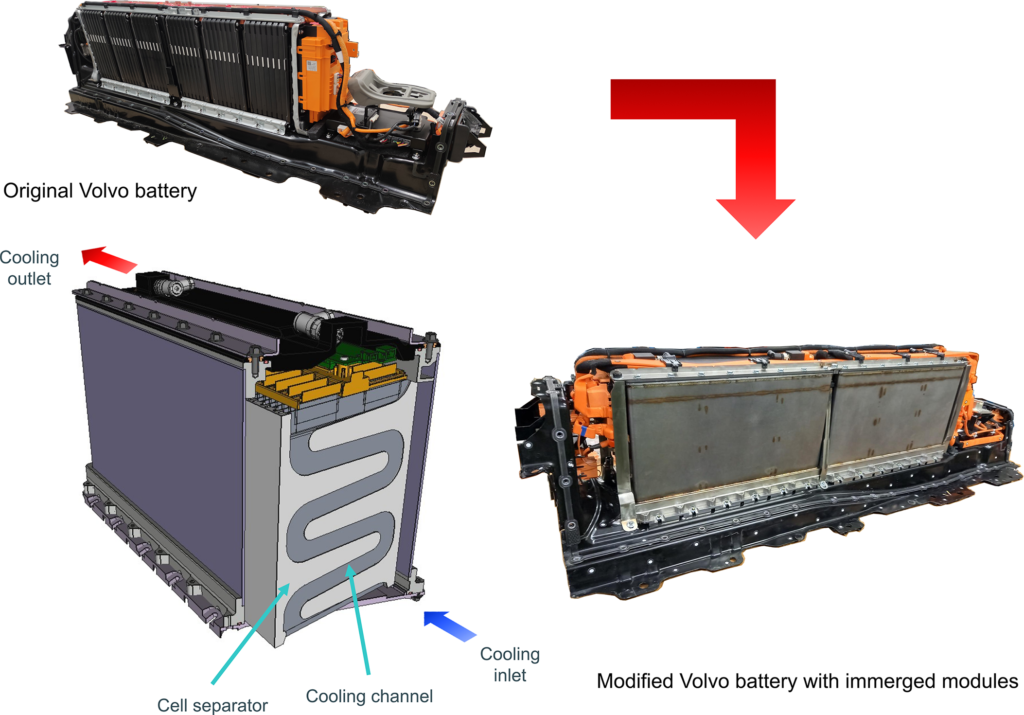 Photos of the lithium battery before and after the modification of the cooling system (cover removed)[/caption]
[caption id="attachment_12630" align="aligncenter" width="702"]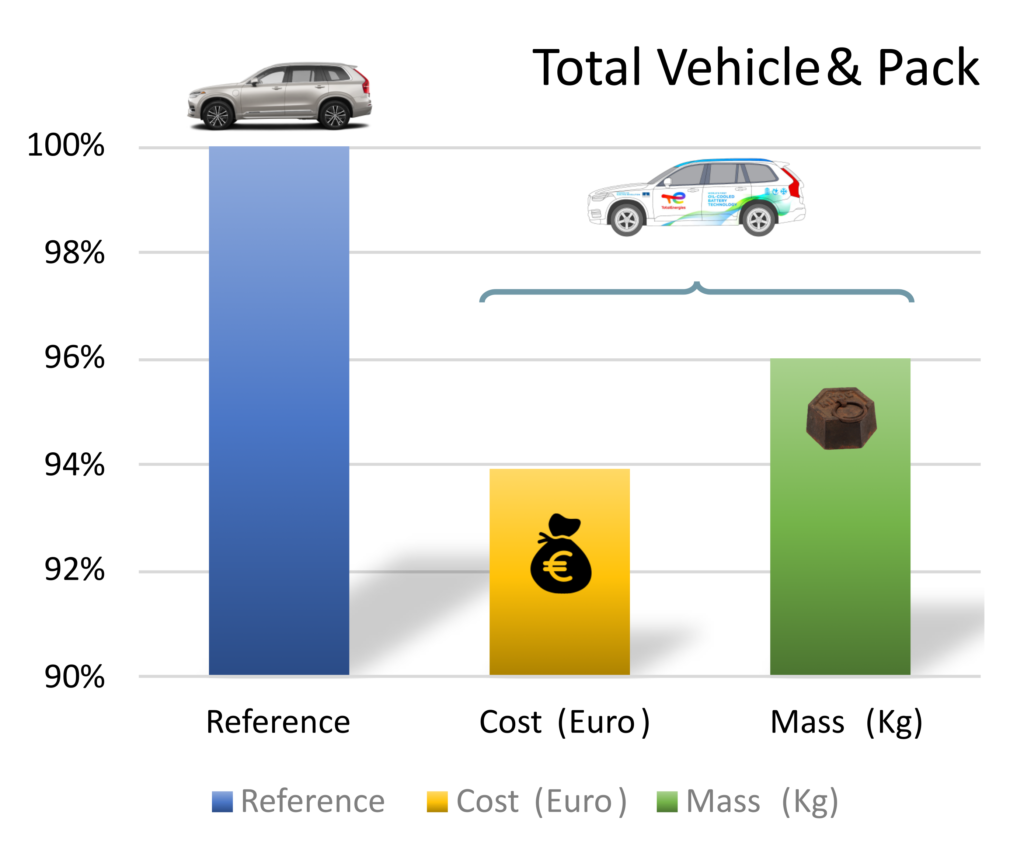 Comparison showing the battery's cost and mass before and after modification[/caption]