In the realm of industries dealing with potentially hazardous gases and substances, the implementation of effective risk-mitigation strategies is paramount. The significance of robust HVAC systems is important, especially in environments where individuals work in proximity to volatile substances – such as hydrogen. Elta Fans Applied Technology took part in a collaborative effort that helped in resolve a critical challenge at Helical Technology, a company that designs and manufactures acoustic and EGR exhaust valves.
In February 2023, Mostafa Koochak, senior test engineer at Helical Technology, was set the task of designing a new test cell at the Warton testing facility. This cell was intended for testing large diesel engines used in heavy-goods vehicles (HGVs), ranging from 12 to 20 liters in size. Hydrogen, a highly explosive gas, is supplied to these engines as part of the testing process. Given the potential hazards associated with hydrogen, it was imperative to extract any leaks or escapes immediately to prevent ignition and potential explosions.
Helical Technology had previously employed Elta Fans in similar projects, so Mostafa reached out to the company for support in specifying a fan for the new test cell.
Elta Fans works with the support of sister companies in Elta Group to deliver a global understanding of the HVAC industry – a specialist division of Elta Fans operates across applications including smoke, hazardous area, gas turbine and more. Working with Helical Technology on the new project, Elta Fans helped with the running of calculations and simulations for the air flow pattern in the test cell.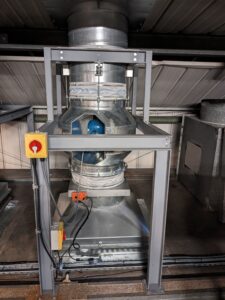 The outcome was a bifurcated axial fan to sit in the fume hood, operating continuously in a 'low power mode' during testing to extract fumes as part of a risk-mitigation strategy. In the event of hydrogen detection, the test cell control system triggers an increase in the fan speed to promptly extract the leakage.
The bifurcated axial fan boasts a nominal diameter of 560mm; a hub size of 150mm; an axial, aluminum impeller; and runs at a fan speed of 2,880r/min with a motor power of 4kW. Capable of moving 3.21m3/s of air, it meets the necessary airflow performance criteria specified by Mostafa.
The fan was successfully installed in September 2023 and is now operational at Helical Technology's test facility, providing constant protection to the test cell and its occupants.
On the success of the collaboration, Mostafa said, "The resulting product is a technically accurate fan used in the fume hood as a crucial risk mitigation strategy. It's clear to me why previous teams at Helical Technology turned to Elta Fans when searching for solutions to challenging and often critical problems. The level of care and attention that I have received in this partnership is unmatched and I look forward to working with the team again."