Amid tightening emissions targets and the transition to PSA technology, Opel's Rüsselsheim Engineering Center (REC) is playing an important role in its new parent company's powertrain strategy.
Opel joined Groupe PSA in 2017, but the companies have had strategic partnerships in place to develop new products since 2012. Prior to the takeover, the Corsa, Crossland X and Grandland X SUVs all already shared PSA platforms. And now, in 2020, only the Astra, Insignia and Mokka X remain on GM platforms.
Regulatory change required a bespoke approach to keep them in line with the market instead of introducing all-new vehicles, explains Lutz Cloos, powertrain system engineer at PSA. "We have a big market share, so we need to make sure that the powertrains in these vehicles are doing their part to achieve that goal. This is why we put a lot of effort into improving the drivetrains," he says.
All-new 1,199cc and 1,342cc Euro 6d-compliant three-cylinder turbocharged gasoline engines debuted in the Astra as part of a 2019 update. These units were developed under GM ownership, but benefitted from 'refinement' at the Rüsselsheim Engineering Center (REC).
Both engines feature balancer shafts, variable valve timing and water-cooled manifolds integrated into the head to shorten the warm-up phase, as well as gasoline particulate filters to meet RDE2 emissions limits. Cloos notes that the 1.2-liter unit is 6kg lighter than the 1-liter Small Gasoline Engine (SGE) turbo engine it replaces.
Development focused on responsiveness, as well as efficiency. The turbos are electronically actuated and, at 1,500rpm, offer 90% of their maximum torque within 1.5 seconds of the throttle being pressed.
"This is a technology we've brought up in diesel engines before, which improved driveability significantly because actuation is fast. On the 1.4-liter, we now have the electrically actuated wastegate on the turbocharger as well," Cloos adds.
Opel will also feed experience back into PSA. REC's knowledge of global markets, particularly federalization for the USA, means it has secured development responsibility for next-generation gasoline engines due for launch in 2022. These will be sold in China and North America as well as Europe, with local emissions compliance overseen by REC.
Most details are still under wraps, but the all new engines will be a generational advance on PSA's four-cylinder 1.6-liter PureTech unit. Opel has confirmed it will utilize direct injection and turbocharging, with variable valve control. The units will also be optimized for electrification – the current generation is the basis of PSA's Hybrid4 plug-in hybrid system.
REC also has an ongoing responsibility for the Medium Diesel Engine (MDE) that is still used by the Insignia and Mokka X, with the former featuring a 2-litre unit co-developed with Fiat Chrysler Automobiles. A new three-cylinder diesel engine, again developed under GM ownership and not shared with other brands, debuts with the Astra.
The new engine is a 1,496cc all-aluminum unit, that generates either 105ps or 122ps. Both versions feature balancer shafts and variable-geometry turbochargers mounted on a manifold which is integrated into the head. Precise 2,000-bar fuel-injection and selective catalytic reduction enable Euro 6d/RDE2 compliance.
However, Cloos believes that the outlook for ICEs remains unclear: "It's extremely difficult to forecast future markets on diesel and gasoline engines. The point is our engines are emission compliant, and that is what we are looking for."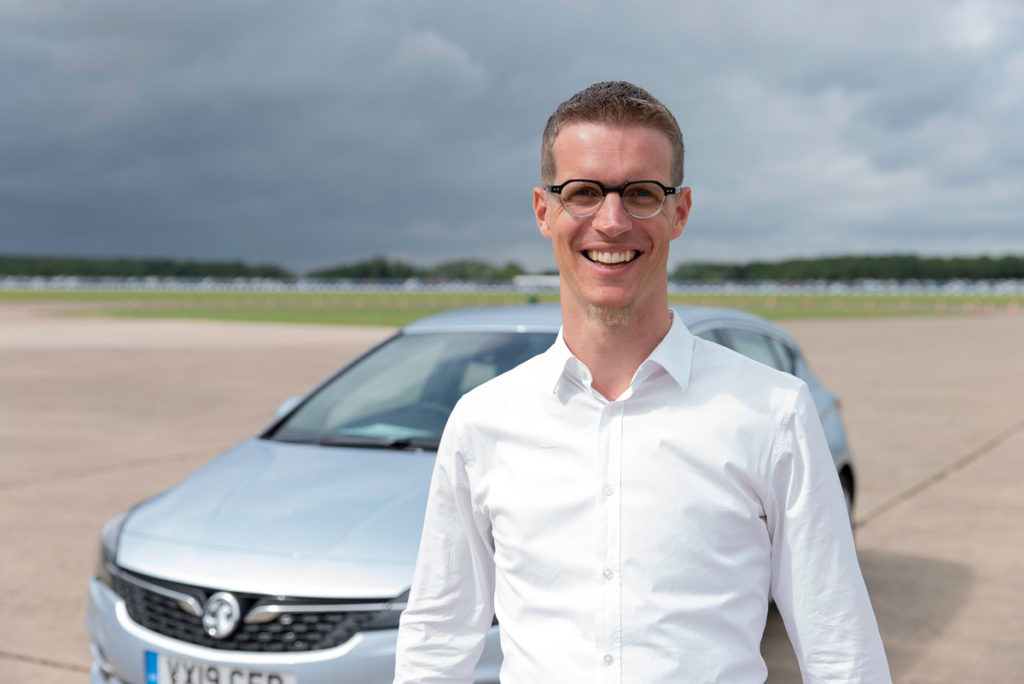 Opel still offers the Ampera-e BEV in left-hand drive markets, but the transition to Groupe PSA's EMP2 platform for larger vehicles and CMP for compact models will enable it to share technology with its new parent company. These are engineered, respectively, to accommodate plug-in hybrid and fully electric drivetrains, and Cloos says customers expect this within the range.
By 2024, all Opel/Vauxhall products will include electric or plug-in hybrid versions, which just happens to coincide with due date for an Insignia replacement. A plug-in hybrid Grandland X and electric Corsa – both based on PSA technology – have recently launched, while electric commercial vehicles – also sharing PSA platforms and drivetrains – are due later in the year.
However, REC's specific experience under GM will enable it to contribute to the PSA drivetrain strategy. The company has previously developed and tested hydrogen fuel cell vehicles in Europe, albeit derived from technology developed in North America, and this is an area of specialism which is being retained at the center.
It also has the opportunity to put its own take on electrification, with the e-Corsa rally car shown at the Frankfurt Motor Show hinting that the current pause in performance products is temporary.
Cloos explains, "In future I think we will define performance in a different way. In the past that was always a powerful combustion engine, which is the single propulsion system you have. As an engineer I would say there are different opportunities to get to a well performing car, and that might be different in the future."