Since Mazda first revealed its Skyactiv-X engine project, it has been something that the team at ETi has watched with particular interest.
After all, the Japanese OEM had claimed to achieve something that no other manufacturer had done – expand the area of lean compression ignition across a wide operating range, and thus bring gasoline compression ignition into the mainstream.
The Spark Charge Compression Ignition technology itself is remarkable. An intelligent ECU allows the engine to switch between conventional combustion and compression ignition depending on the drive scenario. And by compressing the fuel-air mix at a 16.3:1 compression ratio, with a very lean mix, the engine can allow significantly more torque as well as notably improved fuel efficiency. Thus, allowing an engine to offer the best traits of both gasoline and diesel.
But does the reality of the system live up to the hype? Fast forward to 2020, and ETi finally gets to test it on the road. This time in CX-30 application. And the 180ps atmo 2.0-liter, which is equipped with a belt-driven integrated starter generator (ISG) and a 24V lithium-ion battery, is an enjoyable drive. Despite a diesel-like start-up note, the gasoline engine is smooth and quiet.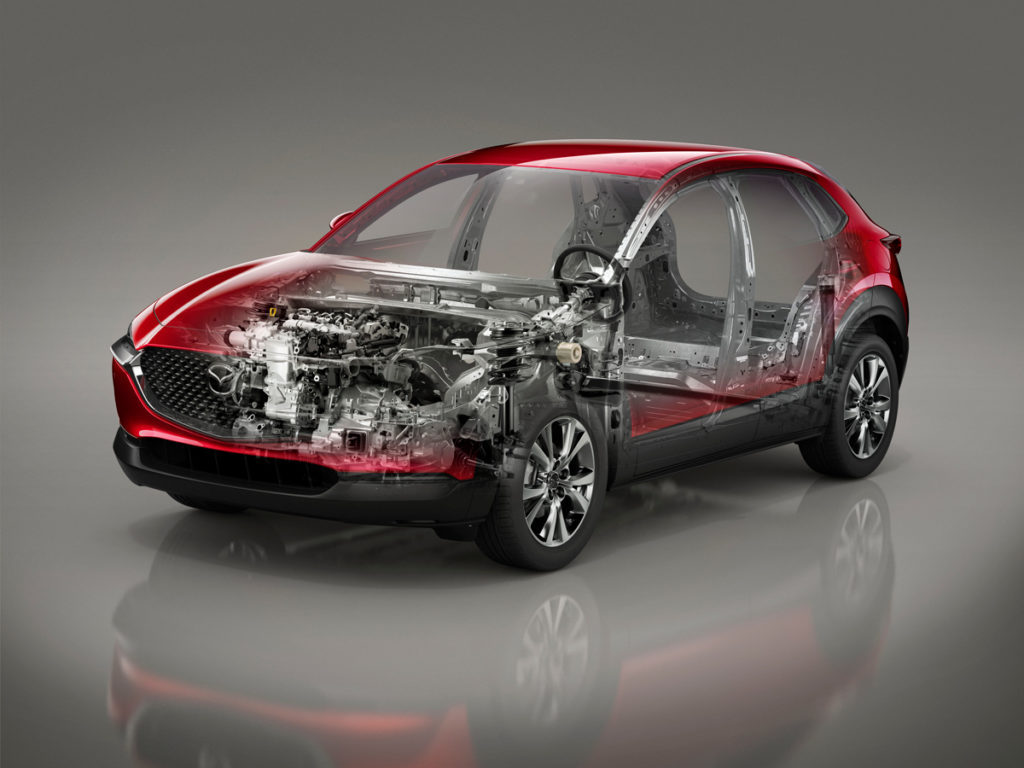 And while the Skyactiv-X doesn't provide a huge step change in performance compared with the brand's more traditional Skyactive-G gasoline, it's a welcome improvement. Paired with a slick 6-speed manual, the X is strong at low revs and mid-range torque is spread wide, making it plenty capable enough for most drivers. But because the unit won't hit the full 180ps it is capable of it until 6,000rpm, you'll want revs to really get the CX30 going.
If you put you put your foot down, it'll hit 100km/h in 10.8 seconds. Spend a bit of time behind the wheel of the XC30 and you'll burn just 5.9l/100km and churn out CO2  emissions of just 133g/km.
If you put aside the weight of expectation that is focused on the Skyactiv-X engine, the CX-30 is a plenty capable car which is nice to be behind the wheel of. There is a premium feel that you wouldn't previously expect from the Japanese OEM and the powertrain has all the grunt needed for everyday driving.
If you don't think too much about the technology at work, you'd be forgiven for believing that Skyactiv-X is an evolution, rather than a revolution. But that, in reality, is probably no bad thing. You benefit from all the performance you need, plus you get the benefit of truly economical driving. Plus, true revolution could be yet to come. With Mazda promising a PHEV and diesel variant of the technology in the near future, the company could be onto something special.