Designing a car that doesn't fit into an already designated driving/vehicular genre? Well, that's exactly what Aston Martin has done with the DB12 Super Tourer.
The latest generation of the OEM's well-known DB namesake now features a 4.0-liter, twin-turbocharged V8 powertrain sat over the front axle, delivering an eye-watering 680ps. 
The DB12's hand-built powertrain benefits from modified cam profiles, optimized compression ratios, larger diameter turbochargers and increased cooling to deliver the aforementioned 680ps at 6,000rpm and 800Nm of torque between 2,750rpm and 6,000rpm.
Aston Martin has also completely overhauled the cooling system, installing two extra auxiliary coolers on the existing central main radiator and an additional low-temperature radiator fitted to the charge cooler water circuit to ensure engine intake air temperatures are optimal whatever the weather and driving scenario. An auxiliary outboard engine oil cooler has twice the face area of its predecessor to deal with the demands of the lubrication circuit, and thermal airflow has been improved by increasing open apertures by 56% to enable more cold air to flow into the radiators. Centrally mounted vents on the hood allow hot air produced by the twin turbos to escape.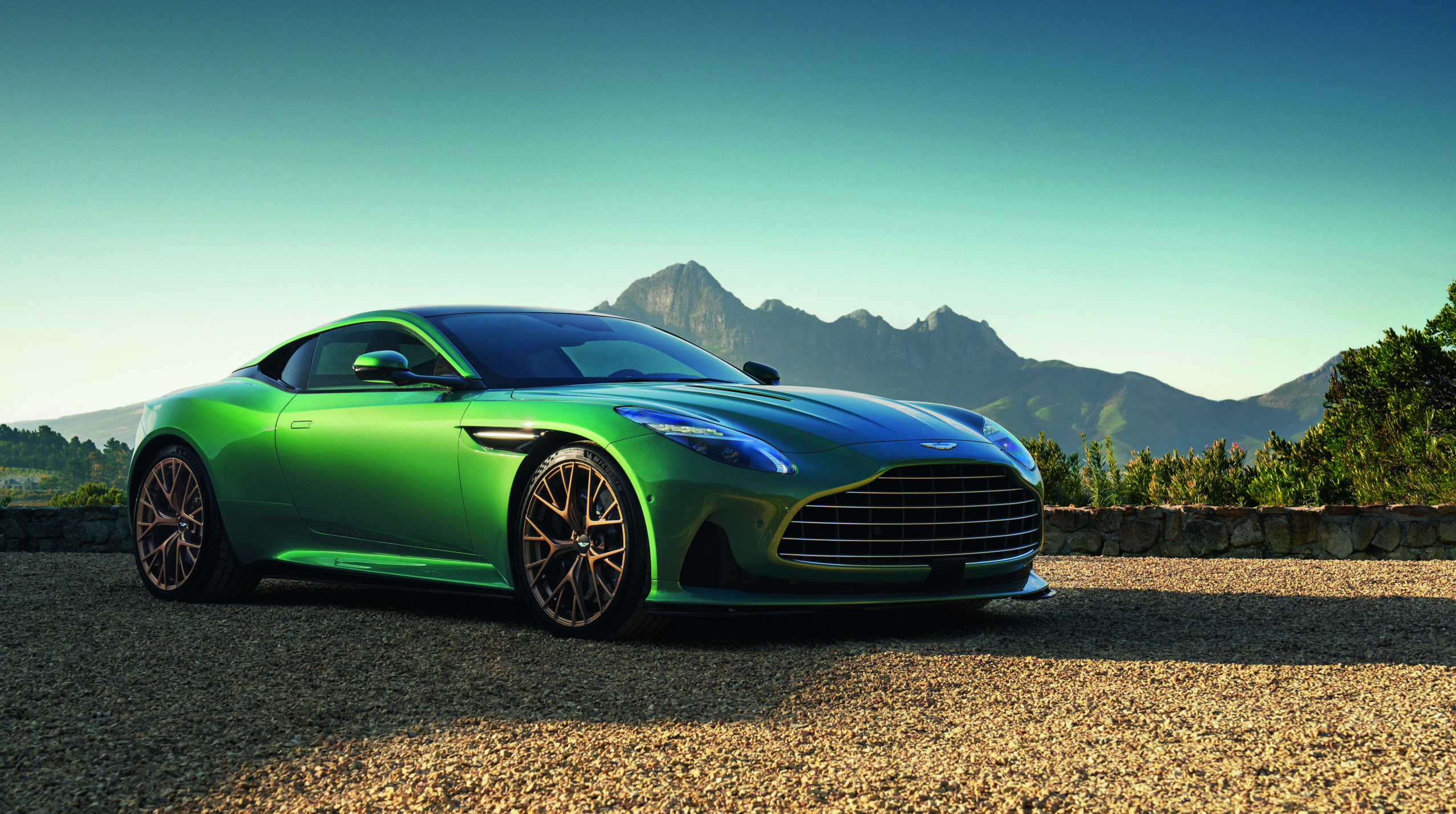 "DB12 is a statement car – one that asserts Aston Martin's position as a leader in performance, dynamics, engineering and technology," commented Roberto Fedeli, the company's group chief technical officer. "We have pushed every aspect of this car to be best-in-class. The result is more power and performance than its rivals.
"Combined with exceptional handling and an exciting soundtrack, it is a car with passion and a truly sporting character," he continued. "Crucially, thanks to its breadth of capability we have achieved this without compromising refinement, comfort and luxury. Together with our use of industry-leading dynamic control and infotainment systems, DB12 is the start of Aston Martin's most exciting new era."
The 680ps is delivered via an 8-speed automatic transmission, and for the first time on a DB model, an electronic rear differential (e-diff). Linked to the DB12's electronic stability control (ESC) system, the e-diff can go from fully open to 100% locked in milliseconds, providing precise and consistent handling.
For enhanced driver engagement, the DB12 is equipped with a revised and shortened final drive ratio of 3.083:1, and a unique transmission shift calibration to deliver what the company refers to as "punchier in-gear acceleration" and "different shift characteristics to suit the DB12's broad range of dynamic modes".
The resulting combination of the powertrain and the 8-speed automatic transmission delivers 0-96km/h in 3.5 seconds, going on to a top speed of 325km/h.
For more on new engines, click here.