The ninth generation of Toyota's Camry has been revealed, featuring a new look and enhanced performance. The 2025 model will be an exclusively hybrid electric vehicle (HEV), offering a combination of power and fuel efficiency.
Powering the Camry is a combination of a 2.5-liter, four-cylinder engine and the innovative fifth-generation Toyota Hybrid System (THS 5). The THS 5 incorporates lighter and more compact electric motors, delivering increased power and performance compared with its predecessor.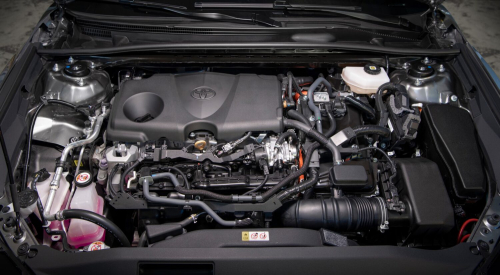 With the synergy of the internal combustion engine and two electric motors, the new HEV has a standard 225 net combined horsepower for front-wheel-drive (FWD) models and 232hp for electronic on-demand all-wheel-drive (AWD) models. Engineers have fine-tuned the HEV system at lower speeds, optimizing engine RPMs and augmenting power from the traction battery for a gratifying acceleration experience and robust torque feel.
A noteworthy addition to the Camry Hybrid lineup is the availability of Toyota's AWD system on all grades, made possible by a dedicated rear electric drive motor generator. According to the company, this component automatically channels power to the rear wheels as required, enhancing the vehicle's capability.
Scheduled for a spring 2024 release at Toyota dealerships, the 2025 Toyota Camry further distinguishes itself with a revamped suspension system, elevating responsiveness and agility for what is claimed to be an exhilarating driving experience. Sport grades feature a specially tuned suspension that prioritizes comfort while delivering heightened stability, handling and driver confidence.
Equipped with advanced safety features, the Toyota Camry includes Blind Spot Monitor, designed to detect and alert the driver to vehicles in adjacent lanes, along with Rear Cross-Traffic Alert, providing peace of mind by warning of approaching vehicles from either side while reversing, through visual and audible signals.
For more on new powertrains, please click here.