Chinese premium EV maker HiPhi has unveiled its first collaborative product, the HiPhi A, which has been developed in collaboration with WESAIL New Energy Automotive.
The vehicle was presented during a global livestream event from its HQ in Shanghai, China and will make its physical debut at the Guangzhou Auto Show on November 17, 2023.
The car integrates HiPhi's own battery and motor technology with WESAIL New Energy Automotive's Apollo hypercar elements. HiPhi has also announced a long-term strategic partnership with ShanghaiTech University, with the HiPhi A the first vehicle to benefit from the cooperation.
HiPhi A is set to be produced in limited series run, scheduled to commence production and delivery in the first quarter of 2025.
The vehicle will showcase extreme performance, with 0-100km/h in just over two seconds and a targeted top speed of almost 300km/h. It will be the first vehicle with HiPhi's own in-house-developed high-performance powertrain – both battery pack and motors.
Based on the 800V platform, the electric drive assembly adopts a front single-motor drive and rear dual-motor drive layout, with a peak power of up to 1,305ps. The motors adopt an industry-leading ultra-high-speed carbon-fiber rotor design, matched with full oil-cooling and magnetic cylinder coil direct-cooling technology, enabling ultra-high speeds of 22,000rpm and ultra-long-time high power output of more than 30 minutes.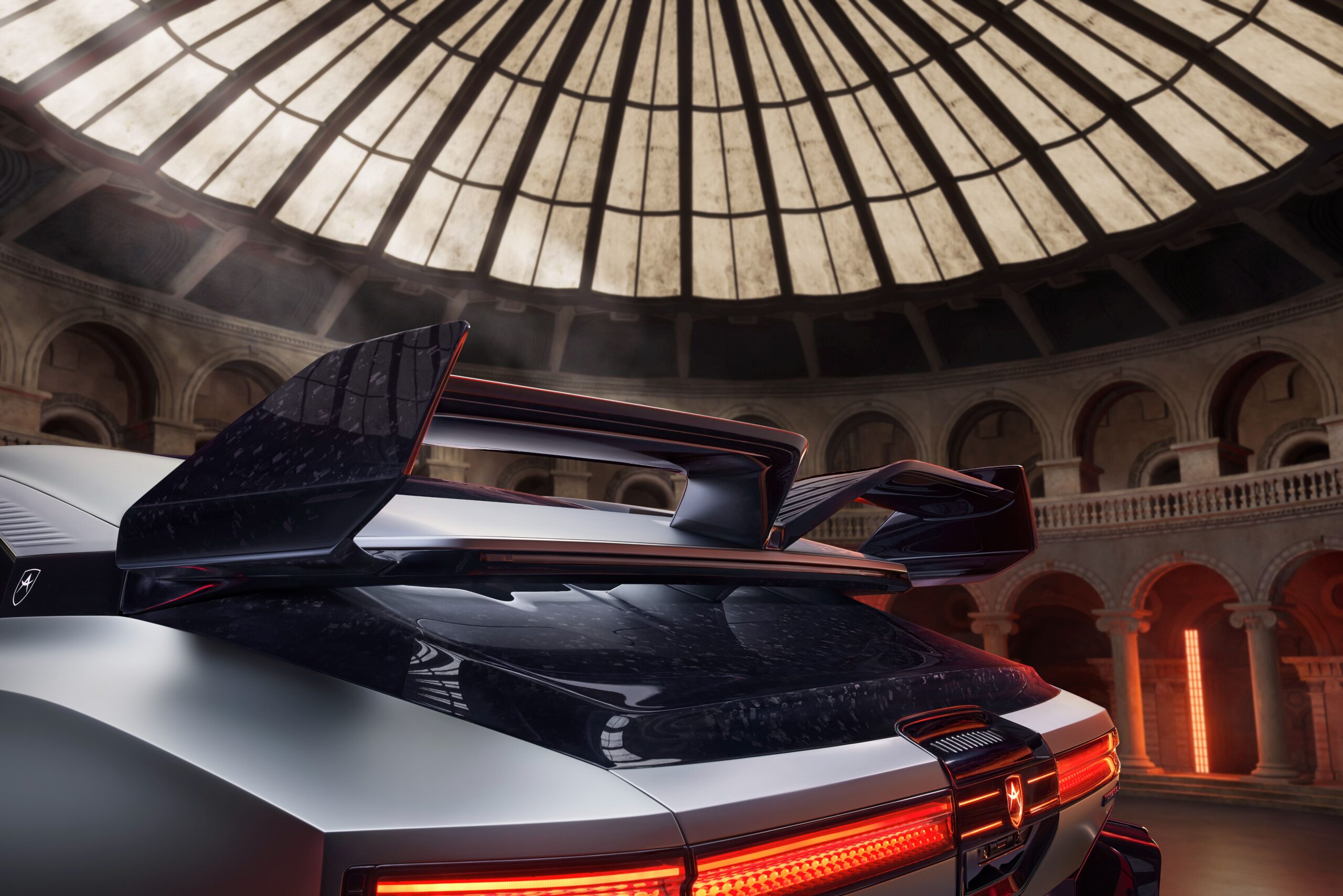 The battery pack is equally innovative – it is able to discharge 1.5MW of power at its peak. It also features a carbon fiber bullet-proof bottom shield and a fireproof sprayed carbon fiber top cover that are, HiPhi says, an industry first. With the company's cloud control battery technology on board, the vehicle delivers both performance and safety.
HiPhi A also features the first use of aircraft grade TC4 titanium alloy in automotive interior and exterior trim, in addition to high-performance aluminium alloys, nano-ceramics and other materials in the chassis.
Advanced chassis technologies like rear-wheel active steering, CDC continuously variable damping and a front-to-rear axle weight ratio close to 50:50 provide the foundations for HiPhi A's agile handling. The vehicle will also be equipped with HiPhi's leading torque vectoring control technology HVC (HiPhi Vectoring Control) to improve vehicle handling, resulting in 15% improvement in cornering and 10% improvement in braking performance.
Meanwhile, HiPhi will cooperate with the Intelligent Manufacturing System Center of ShanghaiTech University to undertake the complete process of closed-loop development, including material powder selection, innovative structural design, printing process simulation and production process monitoring, in order to promote the automotive industry's application and popularization of 3D printing technology.
David Ding, HiPhi Founder, chairman and CEO, said, "From the internal combustion engine era to the new era of intelligent electric mobility, the top hypercars should represent the pinnacle of innovative technology while still paying tribute to the classics, showcasing the transformative nature as a way to look toward the future.
"The combination of HiPhi's luxury product concept, first-class development and industrial capabilities with WESAIL New Energy Automotive's Apollo supercar elements, and the technical expertise and innovation from ShanghaiTech University, make HiPhi A what it is – a true work of art for this new era."