Manufacturers are looking toward more compact integrated electric drives. ZF's solution is a compact, coaxial transmission complete with integrated differential
Though the use of electrified powertrains opens a range of layout options for vehicle engineers, when compared with traditional ICE installations there are still a number of packaging constraints to handle.
For example, the use of rear drive setups via an integrated electric drive unit (EDU) often encroaches into the rear trunk space. It is therefore unsurprising that OEMs are looking to deploy ever smaller EDUs in their future product lines. Toyota, for example, recently stated that it is working on development of a "small e-axle" in partnership with BlueE Nexus, Denso and Aisin, with the aim of increasing range and interior space.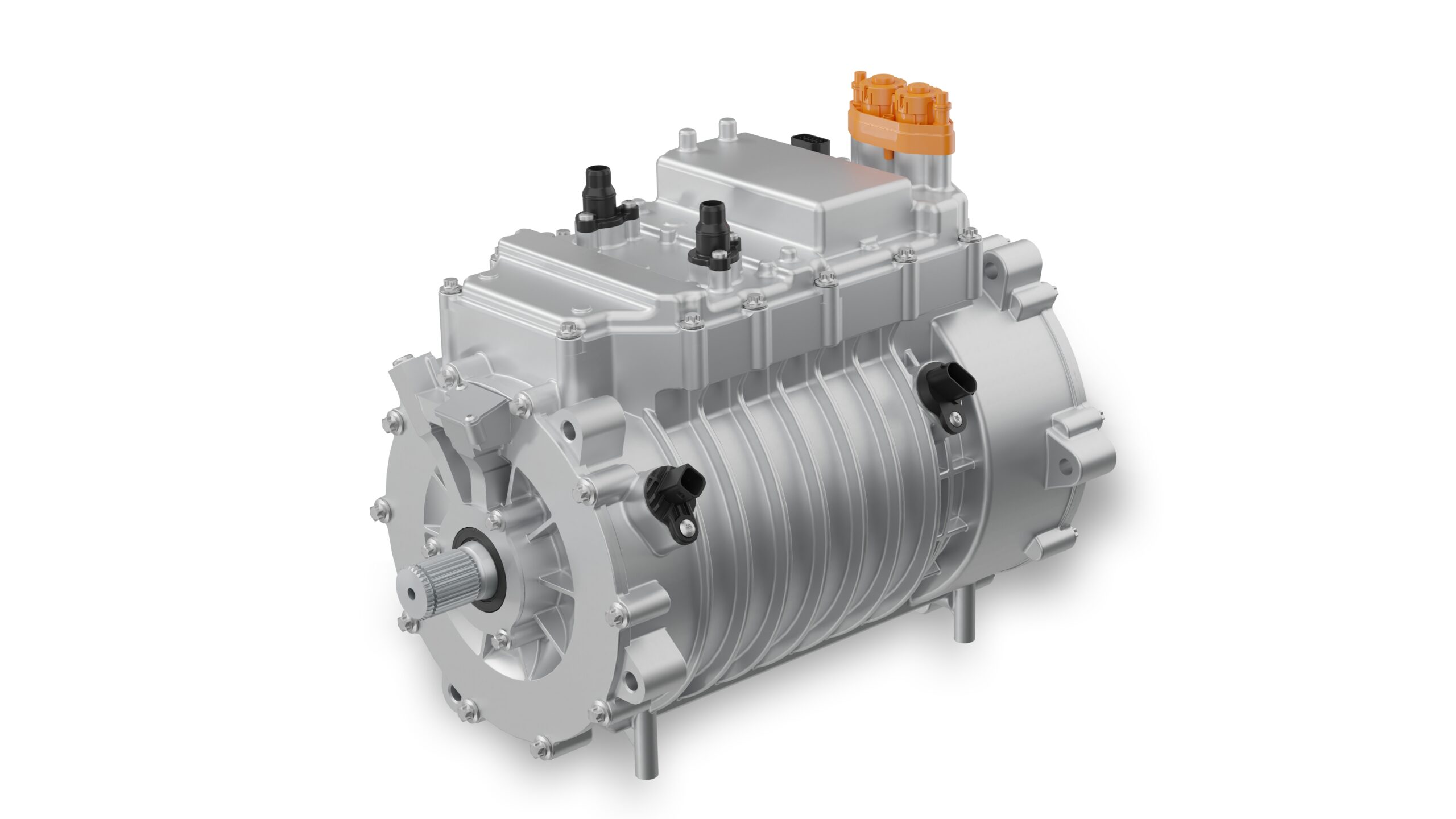 Most EDUs rely on a motor (or motors) paired with a traditional parallel drop-gear-type reduction transmission, and integrated power electronics. For example, ZF's EVD2, a variant of which is used in the recently launched Lotus Eletre, with a peak power output of 200kW and continuous rating of 75kW, relies on a traditional parallel-shaft reduction gearbox to transmit drive. However, ZF recently debuted the EVbeat concept car based on a Porsche Taycan, which carried its latest integrated drive unit, the EVSys800, incorporating a host of space-, weight- and energy-saving solutions, including an intriguing coaxial transmission.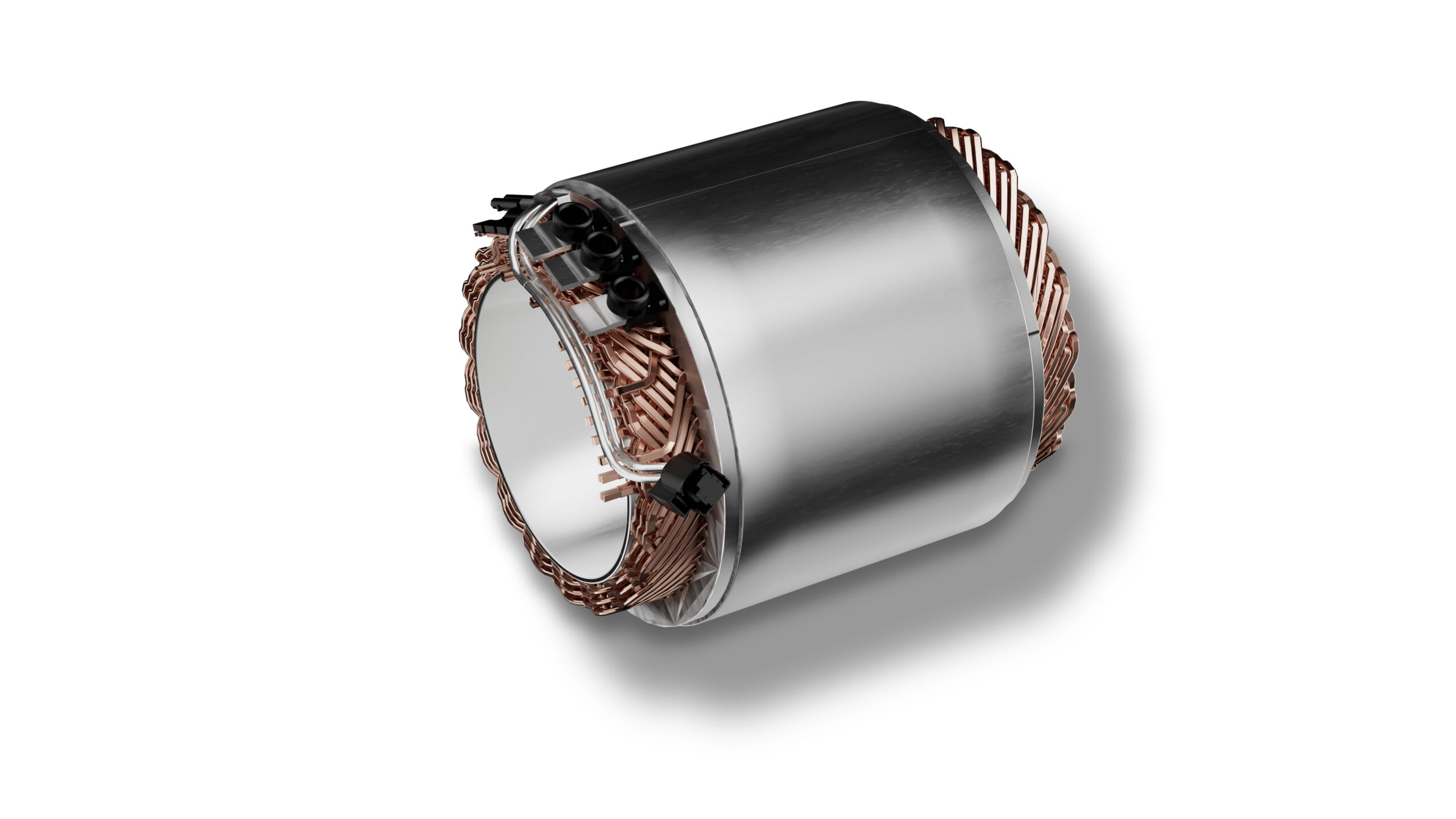 Power dense
In overview, the concept EDU has impressive specs. Running at 800V on SiC power electronics, it hits a peak output of 275kW with a continuous rating of 200kW and weighs just 75kg. That's 15kg lighter than the current Eletre unit yet in a 50mm shorter package, giving a torque density of 70Nm/kg. This performance is achieved through the integration of various techniques aimed at increasing the power density of the motor while reducing the overall size of the unit.
The coaxial transmission is clearly a highlight here, but first it is worth looking at the electrical machine it is mated to. This is an asynchronous motor that uses the company's 'braided' winding technique for the stator windings, rather than the currently popular 'hairpin' type of windings.
Otmar Scharrer, head of development for electric driveline systems at ZF, explains that there are several benefits to the new winding type: "We can get the same copper fill factor and thus create the same torque with a shorter motor."
This reduction in length is achieved thanks to the elimination of the winding 'head' area of the stator. "Sometimes, if you have a relatively short motor, the winding head accounts for up to 50% of the housing length and occupies a lot of housing volume," Scharrer says.
"You also need considerable laser welding with a hairpin winding, which takes a lot of time. Braided winding eliminates this process, improving production cycle times."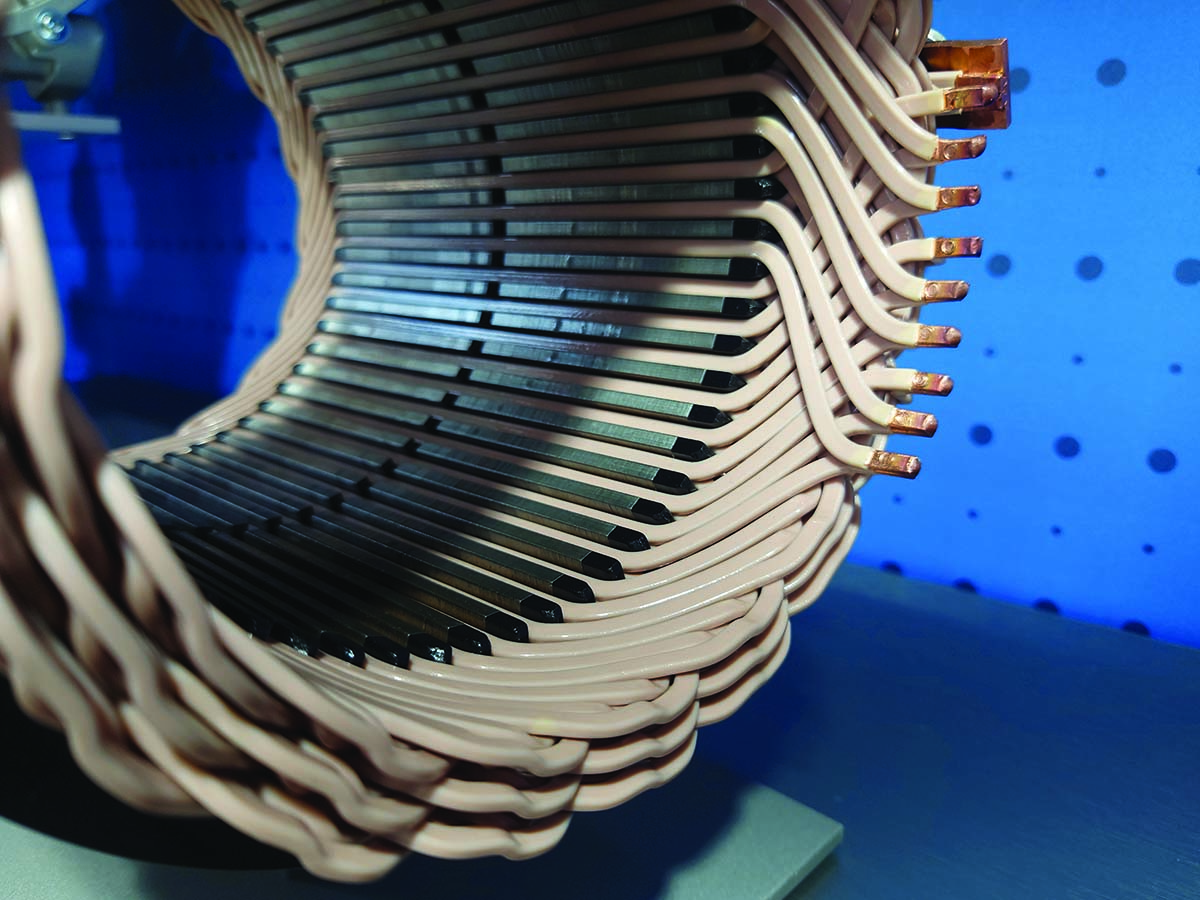 Working in conjunction with the winding technique is a revised cooling system that feeds oil between the stator bars. "We are cooling exactly where the heat is generated and have a relatively high transmission coefficient between the copper and the oil."
Factors such as the flow rate and velocity of the coolant, the specific coolant used and its viscosity, as well as its route through the stator, all contribute to the high cooling efficiency. "There is a lot of know-how that goes into that and a lot of simulation has been done," Scharrer says. "One of the reasons we can show off the system is that the secrets are inside."
Compact coaxial
Pivotal to the compact e-axle is its novel coaxial transmission, an idea that Scharrer says has been under development for the past three years. "There were kinematic elements that gave us a headache, mainly the integrated differential in the transmission," he admits. Apparently simulation work showed that the concept should work, but with ZF's legacy of decades of transmission development, its engineers knew better than to place all their faith in the models.
"Fortunately," says Scharrer, "we have some very skilled engineers who implemented some tricks and it worked. It's a really big step in terms of packaging and the size of the whole thing, because we got rid of an additional shaft and ended up with a very compact, small unit."
Scharrer suggests that the market is still making its mind up on whether coaxial is the way forward for EDUs, or if simpler – and cheaper – parallel units will remain the favored approach. "There are some customers who prefer one and some who prefer the other, but when it comes to super compactness, coaxial is the way to go. However, when it comes to best efficiency, then parallel is still slightly better," he notes.
In the case of ZF's unit, the company states that paying close attention to the manufacturing tolerances and the geometry of the gear teeth has made losses comparable to parallel setups. This is where having a century of gear manufacturing experience comes in useful.
Subcontracting out manufacturing would not be a viable option, Scharrer states: "It requires a very detailed understanding of the processes, but if you do it right it is a really good system."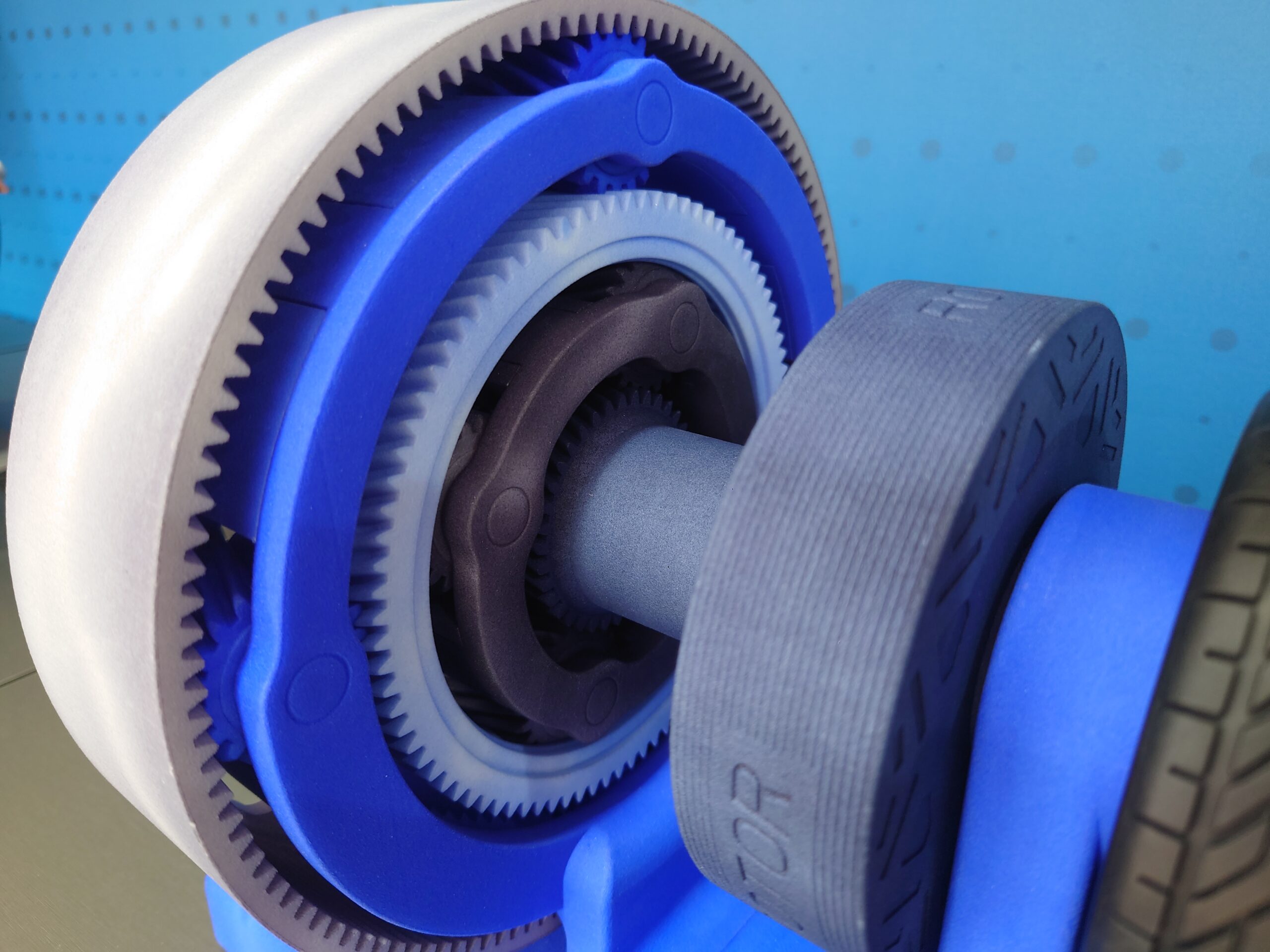 Scalability
There are limitations to the application of the coaxial transmission that do not affect parallel shaft units, the most notable being the maximum reduction ratio achievable.
"You cannot have very large ranges; around 10:1 is possible," says Scharrer. However, given the current technology in automotive motors, he is confident that ZF can accommodate most applications: "In terms of ratios, the range we have is pretty good for electric vehicles, where most will not go beyond a motor speed of 20,000rpm. It is a question of how to balance the performance and cost."
Though there may be limitations to the ratios a coaxial transmission can accommodate, the design is scalable for almost any power output.
"It is almost unlimited, because we just make the gears a little longer," states Scharrer. "For the electric motor there is a certain size ratio that makes sense, and to increase output we can go to the next diameter. We have two diameters of electric motor even in our current platform, but the critical thing is always the inverter. Here we have a very scalable design and see a clear demand for more power, with very few people looking for lower power capabilities."