APTi investigates the third-generation BMW X1 which includes the SUV's broadest powertrain line-up yet, including an electric variant earmarked for a growing share of global sales
BMW's smallest SUV has big shoes to fill. As well as replacing a nameplate that's sold 1.9 million units since 2009, the latest X1 also indirectly replaces the trailblazing i3 hatchback as the new entry point to the BMW i electric sub-brand. Although carbon-fiber structures and reverse-hinged doors are no longer on the ingredients list, the iX1 is a high-volume model at the top of a range facing incredibly complex powertrain demands.
Electrification isn't happening at a uniform pace worldwide and, despite targeting its two-millionth battery-electric vehicle sale in 2025, BMW Group is keeping its options open. Engineering teams are working across mild and plug-in hybrid systems, battery-electric and hydrogen fuel cells while continuing to develop combustion engines, and that diversity is reflected even in the company's smallest models. The X1 launches with almost the full breadth of that technological armory, but battery-electric versions are expected to take an increasingly large share.
This has become a sizeable R&D effort, as Sven Münzinger, project manager for the X1's electric and hybrid powertrain integration, explains. "We need a lot of capacity in the company," he says. "Where it makes sense, there's crossover [between engineering teams]. We try to use all the knowledge to achieve the best results in our product. Electrification is integrated in our development process, and we develop and produce the batteries and drive units ourselves."
These are not separate products. Although the i3 was designed exclusively for electric and range-extender powertrains, the X1 is based on a multifuel architecture which Münzinger says enables production to adapt quickly to changing demand. Combustion engine, hybrid and battery-electric versions are all built on the same production line in Regensburg, Germany, which was recently optimized using digital twins and has been equipped with conveyors and assembly systems for high-voltage batteries. Modules and components for the iX1's battery pack are being built on-site at the new €150m (US$148m) facility, which will employ 300 staff once it reaches full capacity.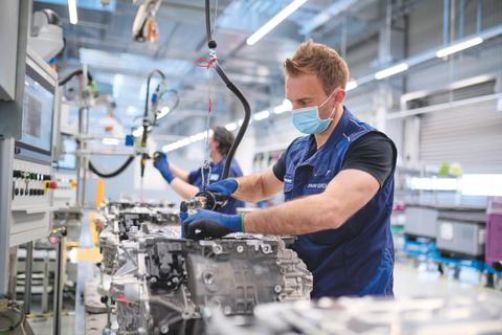 Variations
Despite the shared foundations, variants are differentiated by more than just the powertrain hardware. All X1s use the same three-link rear axle with an integrated subframe, including mounting points for the electric drive unit and high-voltage battery. Plug-in hybrid and electric bodyshells have an additional shear panel and strut tower bracing and use the high-voltage battery as a load-bearing element. This adds rigidity for the iX1's 300kg extra weight versus the heaviest diesel model.
Reduced powertrain cooling allowed the grille to be closed, and the refrigerant compressor has been soundproofed and double-decoupled from the body to isolate noises that would be imperceptible with a combustion engine on board.
The transverse powertrain layout of BMW's smallest vehicles offered some opportunities that wouldn't have been available elsewhere in the range. Its longitudinally mounted hybrid systems use an electrified transmission, but the X1 and 2 Series Tourers feature an evolution of the split-axle hybrid system, as used in the outgoing model. This combines a gasoline engine at the front wheels with a mechanically separate electric drive unit at the rear.
"The high-voltage battery and electrical drive motor are Gen5 [BMW electric powertrain technology], so we have synergies [with larger vehicles]," Münzinger explains, adding, "Then the electric motor of the iX1 is the same as the plug-in hybrid – the calibration and integration are different but the hardware is the same. This electrical engine will also be used in different models in the future."
Rare earth free
The M170 electric drive unit – its name derived from the 170mm-diameter rotor – is the smallest in BMW's fifth-generation electrified toolkit; the flagship iX SUV uses a 220mm version. It includes an externally excitable synchronous motor, power electronics and single-speed transmission in one unit, assembled alongside larger variants at the plant in Dingolfing, Germany, which offers a capacity of 500,000 units per year. In the iX1, peak power is set at 140kW (190hp) and 247Nm at each axle – this is likely to be similar for the electric Mini Countryman due in 2023.
"[Using synchronous motors means that] we don't need magnets or rare earth materials, and we have very stable power characteristics even at high revolutions compared with a PSM (permanent magnet synchronous motor)," Münzinger continues. "Then we just need to cut off the power to realize free-rolling or 'sailing' – in a PSM, we need to induce some power to get to a rolling position.
"Another very important point is we also have very good acoustic behavior. We worked hard to offer a great acoustic performance for customers, without any annoying noises from the electrical module."
Modular batteries are also part of that toolkit. The iX1's 286V liquid-cooled pack features prismatic nickel-manganese-cobalt (NMC) cells, as used in other Gen5 plug-in hybrid and electric products, providing a usable capacity of 64.7kWh.
All plug-in X1s feature additional protective measures within the body, including stronger front and rear crossmembers and energy-absorbing structures in the casing, developed and refined through extensive simulation and crash testing to protect the cells inside. Pyrotechnic separators shut down and isolate the high-voltage system after an impact.
Energy flow between the drive units and battery is controlled by the combined charging unit – a module comprising the voltage transformer, charging electronics, power distribution and drivetrain management. This is linked to the DSC system and near-actuator wheel slip limitation functions and is responsible for interactions between the front and rear axles.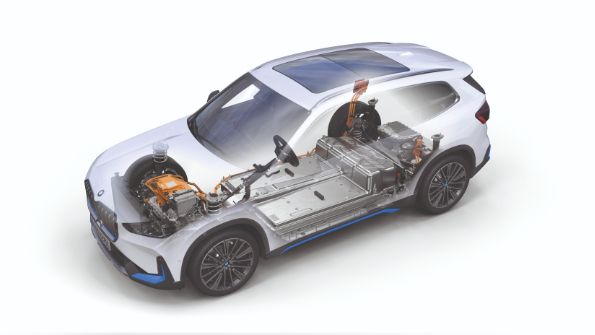 The iX1 uses both drive units to pull away from a standstill and becomes increasingly front-biased as the speed increases, to improve efficiency – the gear ratio at the front is slightly lower (10.050:1) than at the rear (11.190:1). Power can be shifted back to the rear axle while cornering or when the system detects a loss of traction, and BMW claims 10 times faster responses than other systems. There is also a 10-second power boost function, which is activated using a paddle behind the steering wheel.
"Maximum power [from the drive units and battery]is 230kW (313hp), and that's the limit. It was less, but during development we got an opportunity to make 230kW for 10 seconds because the system was more stable than we expected. We can do it very robustly for 10 seconds, but you can use it 10 times in a row if you release the throttle."
Energy flow is optimized in the opposite direction too. The iX1's CCS2 connector offers three-phase AC charging at up to 22kW or DC at 130kW. The thermal management system cycles between full and partial cooling to retain heat in the cells, which reduces degradation while maximizing battery charging speeds.
Developments from the i7 luxury saloon have also been adopted by the car maker's smallest electric car – the software continually adjusts power in a curve instead of via stepped reductions, which additionally contributes to shorter charging times.
Mains charging has been augmented by an upgraded adaptive recuperation system that responds to the road layout and driving conditions. BMW Group claims that this offers 90% of deceleration without using the friction brakes. In B mode, the iX1 is able to recover up to 60kW by lifting off the throttle, or up to 120kW if the brake pedal is applied.
Taken to extremes
That level of optimization required extensive testing; prototypes have endured extreme cold conditions in Arjeplog in Sweden, extreme heat in South African deserts and refinement at the Miramas proving ground in southern France. Münzinger says it's a process that is just as intensive across all powertrain variants.
"We used the predecessor X1 and built full-electric and plug-in hybrid prototypes at the beginning, implementing the fifth-generation technology and starting validation, verification and testing," Münzinger recalls. "As we improved the vehicles, we implemented that technology in the new body. With each integration step we are learning things, and we are improving continuously."
That learning process is increasingly important. BMW Group delivered twice as many EVs during the first half of 2022 as it did during the same period in 2021 – and one in six (15.9%) of its global sales were plug-ins.
The car maker believes the modularity of powertrains and vehicle architectures is a key enabler of its ambitions to reach a 50% battery-electric mix by the end of the decade at the latest, and the iX1 is an important step toward that goal.
"Whether it's a plug-in hybrid, transverse, longitudinal or full-electric vehicle, the base technology in our modular system is the same," Münzinger concludes. "We are learning from every project, to give our best to improve our products as much as possible."
Close to home
Digitalization, connectivity and electrification are requiring sizeable investments in research and development. BMW Group began modernizing its Research and Innovation Center (FIZ) in Munich almost a decade ago as a global hub for its engineering teams. Projekthaus Nord was completed in 2020 and brings powertrain teams together in a single facility with a view to sharing expertise and improving skills.
Sven Münzinger says this put a wealth of facilities within reach during development of the iX1. The FIZ offers more than 100 test benches and 200 laboratories, working from component level to full vehicle integration, alongside prototype building, inspection and validation facilities. These are augmented by the Driving Simulation Center, which was completed in 2020 and offers 14 simulators in addition to opportunities for immersive consumer clinics as well as engineer-facing processes.
Local development also contributes to greater sustainability. "We can do a lot of testing [in the new simulation center]that we were not able to do before, and we have a wind tunnel and climate testing center where we can drive from -30°C to +60°C, which is also a big advantage to us," Münzinger explains. "We did this in this architecture as well, and we could reduce the prototype fleets significantly."