The one minor criticism that has been levelled at the Mazda MX-5 throughout its history is the need for just a little more power, but it really is a minor quibble because the MX-5 has always been an impressive and dynamic roadster. Nonetheless for 2019 the Japanese OEM has listened and given the two-seater a fully revised 2-liter powerplant that features a slew of technical upgrades.
In an effort to improve engine performance, the existing 2-liter unit was given a new dual-mass flywheel and underwent significant surgery to revise the camshafts, piston rings, valves, throttle body, ports, and the air intake and exhaust systems. As a result the MX-5 is more powerful and higher revving, with maximum power output increased to 184ps and torque to 205Nm at 4,000rpm in the new 2-liter Skyactiv-G. The redline now sits at 7,500rpm.
Additionally the response time of the intake valve and throttle has been shortened to improve the initial engine reaction to accelerator pedal application. Air flow has also been improved thanks to the installation of larger throttle and air intake ports, while exhaust gas losses are reduced by a high-lift exhaust camshaft and lighter exhaust valves – overall there's a 30% reduction in pumping loss.
The upgraded 2.0-liter also benefits from reduced internal mass and friction. Piston weight has been reduced by 27g, the con-rod is 41g lighter and low-tension asymmetrical barrel piston rings and crankshaft counterbalance weights all help to reduce weight and friction. Combustion has also been improved with lower air intake temperatures, while high-diffusion atomization injectors increase torque and power by expanding fuel vaporization.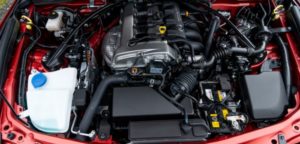 All this results in a 0-100km/h (0-62mph) sprint time of 6.5 seconds, representing a 0.8-second improvement on the previous iteration. Aurally, a new low-inertia, dual-mass flywheel helps to deliver a crisper engine note, while the tuned silencer delivers a muscular and linear sound throughout the rev range.
Getting behind the wheel is the same engaging experience that MX-5 drivers know so well, just with a little more power in the high rev range. The roadster feels fast, lightweight and agile, and thanks to an unchanged chassis setup the rear-wheel-drive dynamics are familiar and controllable. The 6-speed manual gearbox that is mated to the four-cylinder powerplant is precise and shifts sweetly.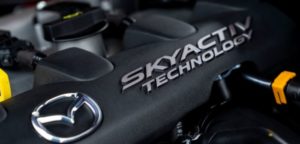 While the engine has had an upgrade in power, the Mazda engineers in Hiroshima have managed to keep the unit frugal, offering 6.9 l/100km (40.9mpg), and relatively clean, outputting CO2 levels of 156g/km.