At the heart of the Genesis GV60 sits the OEM's advanced E-GMP platform, which enables a high level of vehicle performance and efficiency.
The latest generation of the South Korean auto maker's GV60 luxury electric vehicle is fitted with the Power Electric (PE) system, which comprises the motor, an EV transmission and an inverter. Integrated into a single compact module, the components are almost exclusive to the E-GMP platform. Genesis's electrical package benefits from approximate efficiency gains of 2-3% compared to commonly used silicon semiconductors, in addition to an estimated 5% increase in range for the same battery energy.
Genesis's Sport Plus AWD (All-Wheel Drive) model has a motor capable of spinning at 19,000rpm, approximately 50% faster than traditional units. This results in 360kW (490ps) of available power, with an additional 40kW available for 10 seconds with Boost mode activated. A top speed of 235km/h can be achieved.
Other notable features of the E-GMP platform include the Genesis Disconnector Actuator System (DAS), which, on AWD models, can efficiently connect and disconnect the front motor from the driven wheels, enabling RWD or AWD to be selected, while reducing power loss for efficient driving. The DAS system works with the GV60's Smart Regeneration System 2.0, which fine-tunes energy regeneration by automatically adjusting the regenerative braking levels according to traffic and navigation data. As a result, additional energy can be saved to increase the vehicle's 321-mile range.
Situated at the center of E-GMP is Genesis's patented electrical architecture which enables 800V and 400V charging without the need of an adapter. This means the vehicle can be charged from whatever the available power source is. If the GV60 is being charged at a maximum power of 240kW using an ultra-fast charger, the vehicle's battery can be charged from 10-80% in 18 minutes.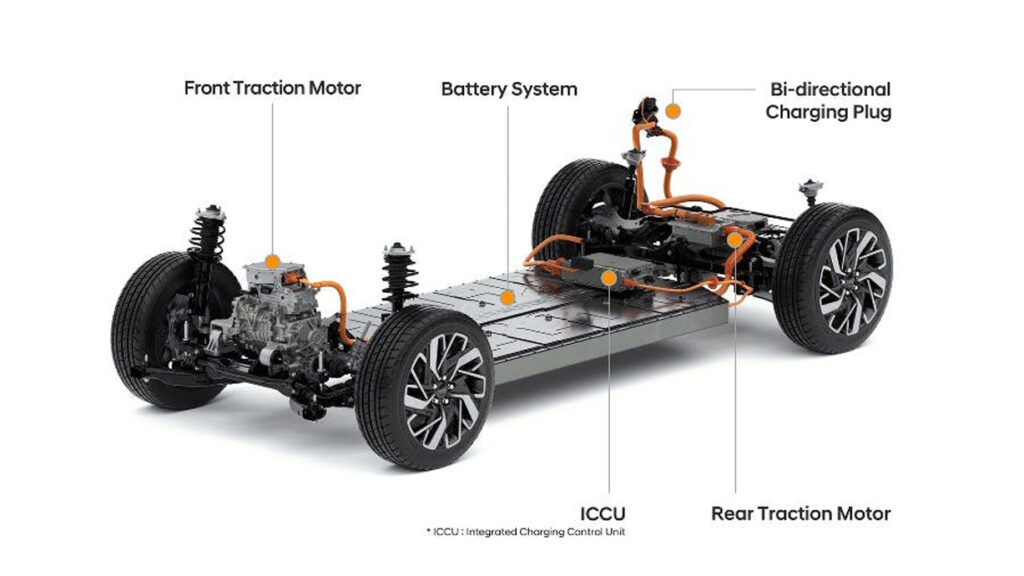 The short charging time is made possible by E-GMP's battery conditioning function which works to manage battery temperatures for optimal conditions. The system can preheat the cells in the 77.4kWh lithium-ion battery for enhanced performance when the battery temperature is low.
Bidirectional charging is also possible. The E-GMP can provide a V2L (vehicle-to-load) function to enable the GV60 to be used as a mobile power source capable of providing a 3.7kW charge for charging a wide range of devices.
"Genesis is committed to creating an electrified future that remains loyal to the brand's values of innovation, luxury and driving pleasure," said Lawrence Hamilton, managing director for Genesis Motor Europe. "Designed from the ground up for full electrification, GV60 is packed with pioneering features that improve performance and efficiency, yet also help make the transition to electric ownership an easy and exciting experience for our customers."