A fascinating range of new engine-, emissions- and fuel-testing technologies will be on display at next week's Automotive Testing Expo Europe 2019, which will see more than 480 exhibitors reveal their latest developments and innovations across the automotive testing spectrum. Interest in the latest powertrain testing solutions will be particularly strong, as manufacturers continue to grapple with the fallout from 'dieselgate' while striving to meet ever more stringent legislation from across the globe.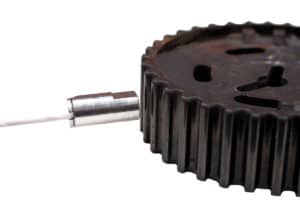 Sensitec (Stand 1708) will reveal its latest dynamic, high-resolution, magnetoresistive sensor evaluation electronics that enable accurate valvetrain measurement in fired engines. The new sensors can be used to measure valve lift or valve rotation directly in fired combustion engines under real operating conditions. This is one of the most demanding measurement tasks when developing or improving components of combustion engines. Until now, valve behavior was measured by simulation or using an electrically driven dummy engine – i.e. the measurement was not carried out under real operating conditions and did not reflect all the thermo- and fluid-dynamic effects that a real valvetrain experiences. In contrast, Sensitec's new Valve Train Measurement System (VTMS) offers precise length measurement at previously difficult measuring sites in fired combustion engines.
Shimadzu (Stand 8530) will be in Stuttgart to launch a range of new equipment, testing methods and techniques for fuel efficiency and additive analysis to help meet regulations. The company provides analytical and testing solutions in chromatography, spectroscopy, mass spectrometry, TOC and material testing for every area of a vehicle, from power sources to bodies, interiors, suspension and electronics. For those seeking help with powertrains and emissions, it can advise on everything from high-speed imaging of fuel injection in automotive engines through to EDXRF analysis of vehicle exhaust particulates.
Test center specialist UTAC Ceram (Stand 8353) will be promoting its expertise in measuring emissions and fuel consumption as representatively as possible, to help manufacturers comply with the EU's new Worldwide Harmonized Light Vehicles Test Procedure (WLTP) for emissions testing. The new driving cycle is a much more dynamic driving style than the older NEDC that it replaces. As such, the setting of the driving resistance applied to the vehicle in the laboratory has been completely rethought, with a major update of the test bench configuration also providing more accurate electric consumption and range. Meanwhile a portable emissions measurement system (PEMS) is fitted to the test vehicle, which is then driven on public roads, meeting several trip, ambient and dynamic conditions representative of real-life driving.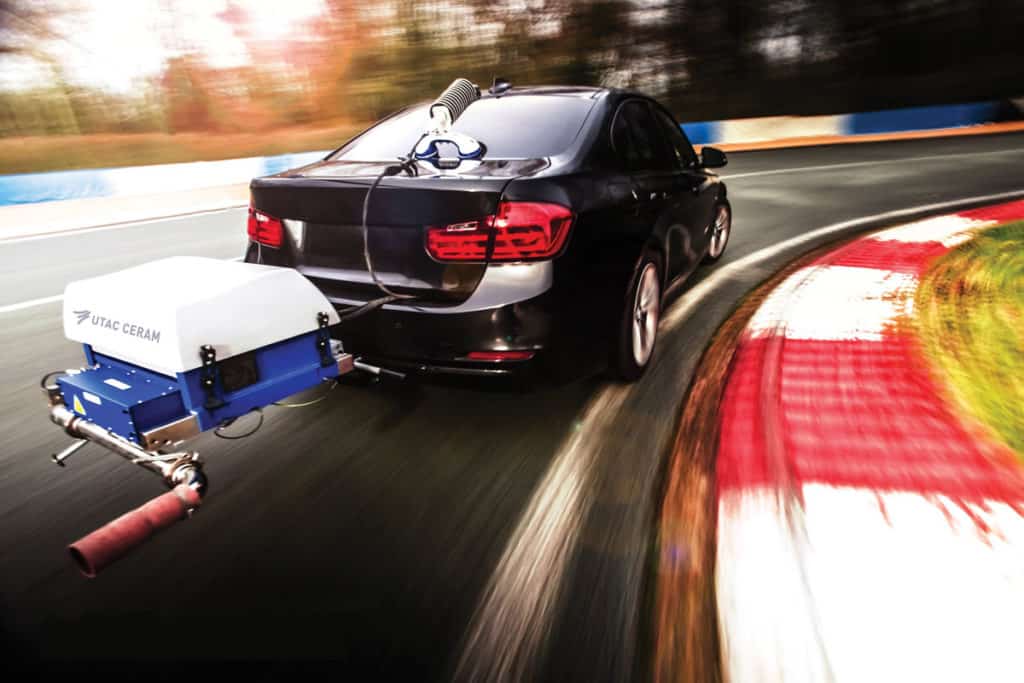 Another leading test center provider, Millbrook (Stand 8140), will promote its major new facilities in the UK for testing automotive battery modules and packs to help reduce vehicle development times and increase durability. Bridging the gap between component testing and full vehicle testing, Millbrook has added the capability to test systems at a powertrain level, while simulating vehicle dynamics and components such as a battery. It will also reveal how it plans to open its first 4WD powertrain test system in the UK. This will be correlated with its portable emissions measurement systems (PEMS) and 4WD climatic emissions chassis dynamometers. The new facility is designed for development testing for global compliance including WLTP, accelerated durability testing, and complex powertrain integration. This will enable fuel economy performance, emissions, and electric/hybrid powertrain integration testing to be carried out before the full vehicle or hardware is available.
Seoul Industry Engineering (Stand 1752) will display its latest exhaust gas simulation equipment, popular with customers in Korea, China, India and Germany. Typical applications include performance and durability testing of exhaust gas systems, EGR systems, EGRC systems, turbocharger systems and intercooler systems. The equipment is compact, easy to handle, and equipped with user-friendly, in-house software using LabView from NI. A wide range of exhaust gas air temperatures and exhaust gas airflows can be accurately simulated in the system. Control parameters include temperature, gas mass flow rate, gas pressure, coolant flow rate and coolant pressure. Various tests can be performed using the system, such as thermal fatigue tests, efficiency tests, gas pressure drop tests and coolant boiling tests.
AVL Hybrid Engine Testbed Solutions (Stand 1310) can offer either new system solutions for electric powertrain testing, or existing engine testbeds can be made hybrid-ready by updating automation software and adding electrification components. For example, when it comes to ICE start/stop development, AVL offers two solutions. First, extending the existing testbed with the AVL Testbed Synchro clutch, which ensures real engine start behavior in open position and enables reference testing at idle speed on an engine testbed. Second, tests can be run by means of a software update, without any clutch but with a patented control algorithm and a stiff shaft. Meanwhile the AVL E-Storage Emulator and the corresponding battery models, which are embedded in the PUMA automation system, make it possible to simulate specific battery behavior.
Testing Expo visitors are also guaranteed free access to the neighboring Engine Expo + The Powertrain Technology Show, which this year features two brand new conferences: The Path Towards Euro 7 Conference and The Powertrain Testing Conference.
To register for your free fast-track entry code to Automotive Testing Expo 2019, click here.