As e-component production at BMW's plant in Leipzig, Germany, continues to grow, the first cell coating line has gone into series operation. At present there are two existing module assembly lines, and BMW has outlined plans to add a third by 2024, in addition to four more cell coating lines and two more high-voltage battery assembly lines. The four coating lines will enter series operation during 2023, one roughly every two months.
"From 2024 our plant here in Leipzig will be able to run the entire process chain for high-voltage battery production," said Markus Fallböhmer, head of battery production, BMW Group. "So, we will be making an important contribution to the transformation to electromobility."
Over €800m (U$874.7m) will be invested into BMW Plant Leipzig to establish and develop e-component production, enabling the OEM to meet its target of fully electric vehicles comprising at least 50% of all sales by 2030.
The new cell coating system covers 2,300m2  and is situated in the former BMW i3 production hall. The coating line has been built to handle over 10 million cells a year, which equates to more than 2,300 each hour. These coated cells are then used on the battery module production line at the site to produce modules for the all-electric BMW i4 and BMW iX1. An additional line at the Leipzig plant is making battery modules for the BMW iX.
High-voltage battery production happens in three stages: cell coating, module production and then the assembly of the battery. All of these processes are highly automated.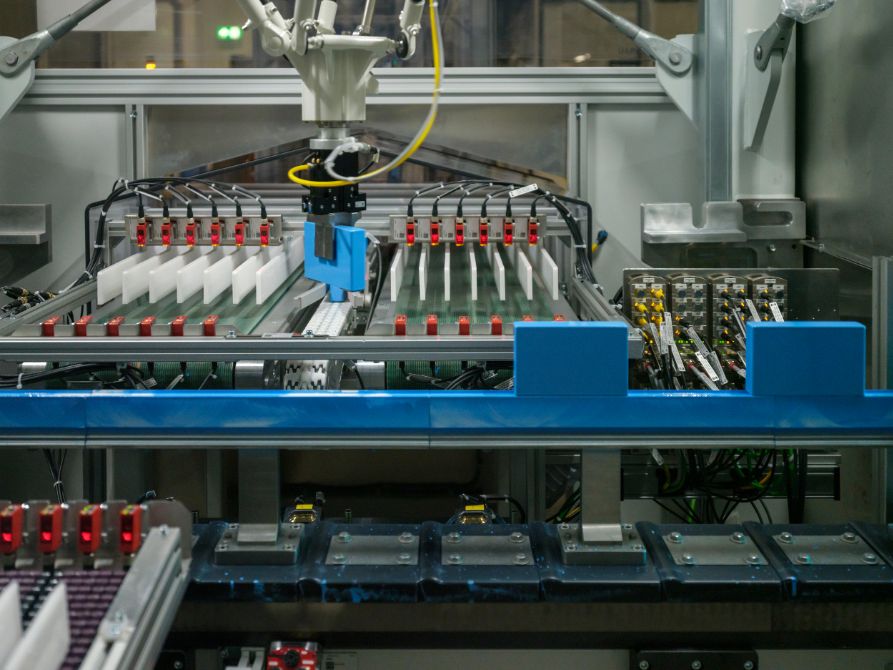 Coating lithium-ion cells begins by pre-treating and patterning their surfaces with a laser. This involves the laser 'chiseling' a texture into the outside of the uncoated cell to increase its surface area, and to also reduce the surface tension of the aluminum casing.
Next, the cells are plasma-cleansed to remove any dirt or oxides. Combined, these two processes improve the adhesiveness of the surface, ready for the coating to be applied. The coating is then laid on by a machine which coats the cells in two layers. These layers are then hardened by UV to ensure the best possible insulation for the cells.
Finally, a fully automated three-stage quality control process is carried out in which the thickness and surface quality of the coating are inspected. A high-voltage test is also conducted to ensure the coating is completely free from defects.
Once coated, the cells are assembled into modules. When completed, these are fitted into an aluminum housing along with the control and cooling units and the connectors which will connect them to the vehicle.
BMW predicts that 150,000m2 of manufacturing space will be taken up for e-component production at the facility in the future.