As much of the automotive sector continues on a path toward electrification and eventual decarbonization, vehicle manufacturer Caterham has revealed its own development concept for a fully electric Seven model, aptly named the EV Seven. The OEM plans to use the concept as a testbed to ascertain whether a battery-electric version of the current Seven model – which is gasoline-powered – is feasible and remains driver-focused.
Based on the Seven chassis, the EV Seven is being developed in partnership with Swindon Powertrain, which is supplying its own e-axle based on the HPDE range and a 51kWh immersion-cooled battery pack. This style of cooling system uses a dielectric fluid – supplied by Motul – that stays in direct contact with the cells to deliver better thermal management during charge and discharge cycles.
The e-axle and battery pack will deliver peak power of 243ps at 9,000rpm and peak torque of 250Nm, with 0-96km/h in an estimated 4.0 seconds.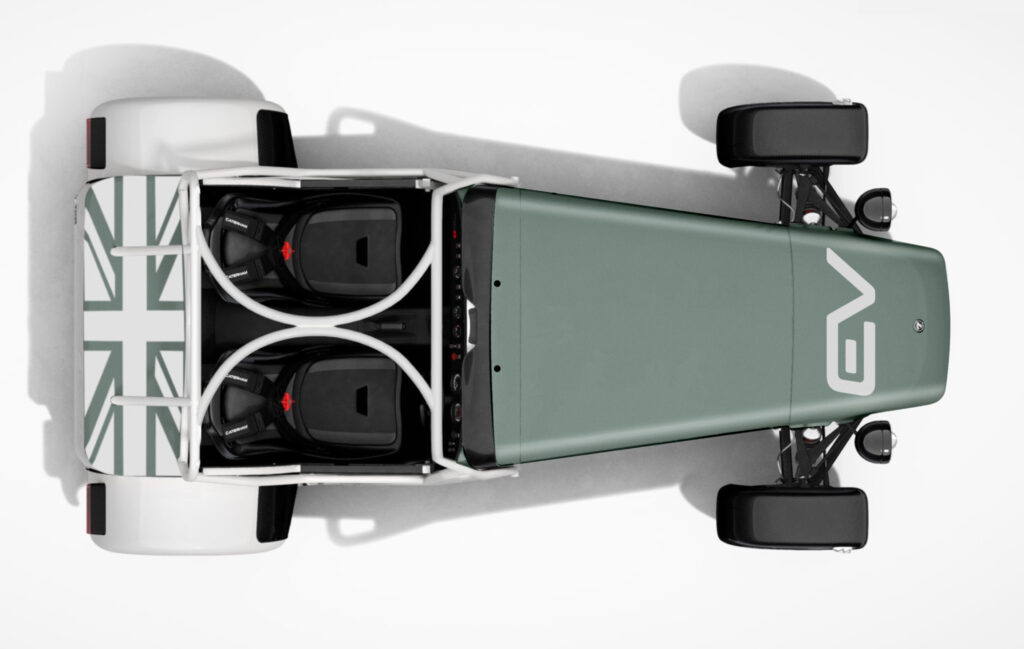 "Any future EV model we produce must be true to the DNA of a Caterham: lightweight, fun to drive and driver-focused," said Bob Laishley, CEO of Caterham. "The main objective for this project is to develop a vehicle with a weight delta of no more than the equivalent of having a passenger on board. We're never going to launch a one-ton Seven – we'd rather not do it."
To ensure the EV Seven meets the requirements for driving on road and track, the OEM aims to ensure that it can achieve a repeatable 20-15-20 drive cycle. Broken down, this means driving for 20 minutes on track before being charged for 15 minutes and then driven for an additional 20 minutes.
"Building a Seven that's capable of a Sunday morning drive is achievable with current battery technology, but the challenge is for track use where the energy consumption is greatly increased. At the moment, immersion battery cooling is one of the best solutions in terms of coping with the rapid charge and discharge cycles that would be experienced on a racetrack," added Laishley.
The EV Seven will weigh approximately 70kg more than the current production Seven, resulting in a total weight without occupants of just under 700kg. The immersion-cooled battery – situated in the vehicle's engine bay and transmission tunnel – can achieve DC rapid charging speeds of up to 152kW and has a useable capacity of circa 40kWh to ensure it can withstand track use and fast recharging without premature degradation. The vehicle will also be fitted with a limited-slip differential, adjustable Bilstein dampers (from the Seven 420 Cup), regenerative braking and quad-piston brake calipers.
"We do not have plans to put EV Seven into production at this stage – it's a testbed to see how well an EV powertrain works for our customers' specific use cases," added Laishley. "We're doing this project with our eyes wide open so that we can learn how to deliver the specific Caterham vehicle attributes necessary for a Seven: lightweight, simple and fun to drive. We're going to bring this to market at the right time, when the future generation of battery technology allows it, and that's why now is the time for us to trial the concept."
Raphaël Caillé, managing director of Swindon Powertrain, added, "The targets we've been set for low vehicle weight and battery charging speed are undoubtedly ambitious, but the use of cutting-edge immersion-cooled battery technology along with our own powertrain components means we're able to develop an electric Seven that maintains the core values of the original."
The EV Seven concept will make its public debut in July 2023 at the Goodwood Festival of Speed in the UK.