Ionway is the new name for a joint venture created by Umicore and Volkswagen Group-backed battery company PowerCo. The new business will have its headquarters in Brussels and has announced it will build its first production facility in Nysa, Poland.
The new joint venture will be a large-scale industrial manufacturer of cathode active materials (CAM) and precursors (pCAM) with the aim to achieve production capacity of 160GWh per year by the end of the decade, corresponding to 2,200,000 battery-electric vehicles.
Ionway will supply PowerCo's European battery cell factories with key battery materials and cover a large part of its European demand, while providing Umicore with access to an important part of the European demand for EV cathode materials.
"The foundation of Ionway sends a strong signal for the rollout of battery cell technology in Europe," said its new CEO, Thomas Jansseune. "We believe this company will provide some important building blocks in helping the European Union to achieve its Green Deal ambitions."
Jansseune took the helm as Ionway's first CEO earlier this year, following 22 years at Umicore. In his last role, he led Umicore's New Business Incubation with projects in venture capital, solid-state batteries, decarbonization, battery recycling, and hydrogen electrolysis.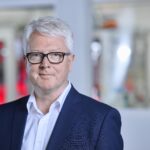 CAM are the single biggest contributor to overall battery cost and define its carbon footprint, making them strategically important input materials central to battery value creation. The formation of Ionway enhances the Volkswagen Group's vertical integration of its battery supply chain, something PowerCo CEO Frank Blome (right) says will make its battery cells more cost-competitive in the years to come.
Ionway's first production site in Poland will be situated alongside the existing Umicore CAM plant in Nysa and will receive substantial grants and investment from the Polish government.
Preparation of the site, engineering and permitting are ongoing and construction will start as soon as possible once the permitting process is completed. Production at the plant is expected to begin as soon as construction is completed, while PowerCo's CAM demand for the Salzgitter cell gigafactory is secured from the existing production capacity of Umicore in Nysa in time for its start of production in 2025.