The Mazda MX-30 e-Skyactiv R-EV series plug-in hybrid has made its European debut at the Brussels Motor Show in Belgium, joining the Japanese OEM's all-electric MX-30 e-Skyactiv in the company's electrified vehicle portfolio.
The Mazda MX-30 e-Skyactiv R-EV features a 17.8KWh battery which enables an 85km (53-mile) pure electric range. For the plug-in hybrid, Mazda's unique rotary engine technology has made its return, with a newly developed 830cc single-rotor petrol engine being used as a generator to enable longer ranges between charging. Used only as a generator, there is no mechanical connection between the engine and the vehicle's wheels, ensuring the MX-30 R-EV always drives using the electric motor.
The rotary powerplant was selected for the R-EV because of its ability to produce the required output from a compact, lightweight unit. The rotary engine is situated next to the generator and high-output motor in the engine bay. Through a combination of the 17.8kw battery and a 50-liter fuel tank, the plug-in hybrid is capable of achieving a range of 600km (373 miles).
When it comes to charging, Mazda has designed the vehicle to be flexible to suit differing customer requirements. The MX-30 R-EV is compatible with both AC charging and rapid DC charging. 3-phase AC charging can be completed in approximately 50 minutes, while DC rapid charging can be completed in approximately 25 minutes. The Mazda MX-30 R-EV also features three drive modes for varying driving situations, consisting of Normal, EV and Charge. With a 125kw/170ps output, the MX-30 R-EV delivers slightly faster acceleration than the 145ps fully electric MX-30.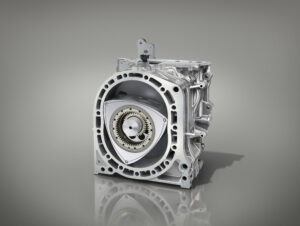 Revised and adapted to meet current requirements, the 8C rotary engine now features a 120mm rotor radius and a 76mm rotor width. Due to its small size, coaxial placement and integration with the electric motor, decelerator and generator has been made possible, resulting in an overall unit width of under 840mm. This enables it to fit under the vehicle's bonnet without revisions to the MX-30 body frame.
The 8C is 15kg lighter than the twin-rotor Renesis engine found in the RX-8 due to the use of aluminum. Direct fuel injection has been used to reduce emissions and improve fuel economy. Furthermore, an exhaust gas recirculation (EGR) system has been fitted to improve efficiency in low RPM and low load scenarios. The MX-30 R-EV's high output 122kw/166ps electric motor is capable of producing 260Nm of torque.
"I'm really excited about the new MX-30 R-EV joining our electrified line-up in the UK this summer," commented Jeremy Thomson, managing director, Mazda Motors UK. "A great example of Mazda's challenger spirit, thanks to its unique technological approach, it's a car that's the perfect solution for customers who want an electric car for everyday usage but the flexibility to undertake longer journeys without the reliance on charging infrastructure. With the option to choose either the pure electric MX-30 or the new R-EV version depending on their needs, our customers now have even more choice."
Thomson added, "Whichever version they choose they get the same seamless electric drive experience, engaging handling and first-class cabin, which features unique materials and premium design. It's the latest example of how Mazda's multisolution approach ensures we have cars to suit all our customers' needs by improving environmental performance with a combination of electrification and clever internal combustion engine technologies."