Download apps
Download the Engine + Powertrain Technology International App NOW to read the latest issue! The App is free and gives you access to a library of back issues.
---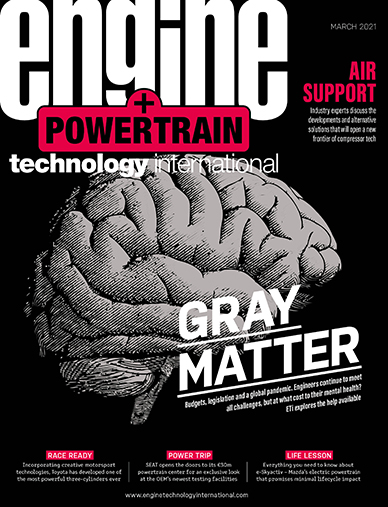 The March 2021 issue is now available online! Packed full of news, interviews and features, including:
TOYOTA G16E-GTS : Toyota's latest pocket rocket is described as the first example of the company turning a motorsport machine into a production car. At its heart is a new three-cylinder that will output 261ps, making it one of the most powerful three-pots currently available.
FORCED INDUCTION : Despite increasing electrification, forced induction remains a crucial technology as OEMs push to meet ever-stricter fuel economy targets. Experts from Garrett Motion, Mahle Powertrain, BorgWarner and Eaton share their thoughts on the evolution of the technology. ETI also speaks to Michel Forissier, chief engineering officer at Valeo to discuss electrification and a significant shift in the company's focus.
MENTAL HEALTH : Shifting budgets, new regulatory frameworks and a pandemic are bringing rapid change to an already fast-moving industry. Engineers continue to rise to the challenge, but at what cost to their mental health? ETi explores the support available during these uncertain times.
SEAT POWERTRAIN DEVELOPMENT CENTRE : A comprehensive, new research and development hub in Martorell cements SEAT and the VW Group's commitment to powertrain diversity and innovation. SEAT's head of powertrain facilities, Christian de Domenech, takes ETI on a tour of the €30m Powertrain Development Centre.
UNIVERSITY FOCUS – WARWICK : The University of Warwick is changing opinions of lithium iron phosphate batteries, with research led by WMG showing that the technology's inherent safety lends itself to more tightly arranged, energy-dense and less expensive battery packs.
MAZDA E-SKYACTIV : Mazda remains committed to pursuing lifecycle CO2 reductions in its internal combustion engines, but the OEM's first BEV powertrain offered an opportunity to explore energy-efficiency concepts. The senior manager at the OEM's European R&D center, Joachim Kunz, gives ETI the full development story on Mazda's first BEV.
---
Note to iPad and iPhone readers: to view this digital edition with the latest interactive features, please ensure you have upgraded your tablet or iPhone to at least the iOS 5 Operating System.
Note to Android tablet and Android phone readers: to view this digital edition with the latest interactive features, please ensure you have upgraded your tablet or Android phone to at least the Version 4.0 Operating System.