At this year's Professional MotorSport World Expo, a multitude of companies and exhibitors from the automotive powertrain sector were on hand to exhibit their latest powertrain and driveline technologies.
Advanced capabilities of MoTeC GPRP electronic control units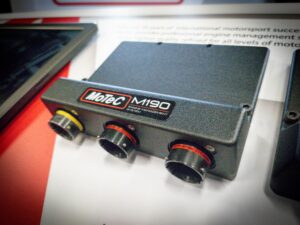 Electronic control unit specialist MoTeC discussed its latest GPRP ECUs for engine and gearbox control with visitors. The GPRP Pro and GPRP-DI Pro packages are MoTeC's new torque-based engine and gearbox control firmware for port and direct injection applications. Both packages can be used with new and existing M1 hardware which enables current customers with MoTeC ECUs to upgrade to the new firmware remotely.
MoTeC's new firmware places a firm focus on calculating and controlling engine torque by throttle opening and ignition control. Many key features are enabled with the GPRP Pro and GPRP-DI Pro packages, including torque-based throttle control to deliver a faster control response and improved vehicle drivability and seamless transitions.
Additional features of the new solution include, but are not limited to, sophisticated traction control with dynamically adjustable closed-loop control, clutch slip control to protect or maximize clutch performance and configurable throttle pedal options for improved consistency, control and feel.
Hewland transmission systems for electric motorsport applications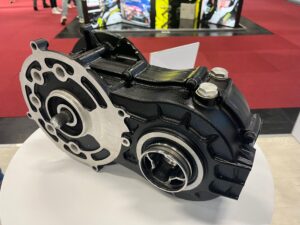 Hewland Engineering showcased its portfolio of gearboxes designed for internal combustion engine applications and EV-specific options. The EV gearboxes on show included the PEVT-200, a high-performance motorsport dual motor torque vectoring transmission. The solution weighs just 18kg and is capable of outputting up to 300Nm of torque and a maximum of 20,000rpm per side for a combined powertrain potential output of 500kW.
In addition to the wide array of motorsport-orientated transmissions on show, Hewland Engineering displayed its HSP-200, a gearbox used within the Singer DLS project which features a magnesium casing and has been designed to fit in place of standard G50 transmissions also found within older Porsches including the 964 and 993 models. The company also produces the HSC, an aluminum version of the gearbox, which is slightly heavier and has been developed to cater to the restoration of the aforementioned vehicles as components get harder to come by.
Crankshaft and connecting rod components from Arrow Precision Engineering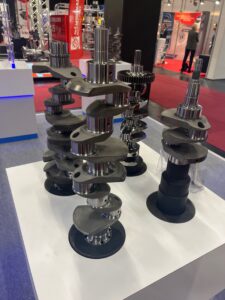 UK-based Arrow Precision Engineering exhibited its wide range of engine components for high-performance and ultra-high-performance applications.
The company manufactures crankshafts and connecting rods for the automotive and motorsport industries and has supplied parts to entrants of the WRC and the Isle of Man TT among many others. Arrow Precision Engineering additionally supplies parts to vehicle OEMs and parts for vintage and classic restorations.
All crankshafts are produced using a solid billet of Arrow's own 722M24 specification or other types of available aerospace-grade materials. These are then manufactured using a combination of CNC lathes and four-axis and five-axis mills which enable complex designs to be created at an extremely high standard.
"We make these components from start to finish," said James Williams, sales manager, Arrow Precision Engineering. "We take care of everything from sourcing the raw materials from the mill, right through to the design, manufacture and heat treatments. We manage the entire process from start to finish and everything which is supplied comes with detailed inspection reports to give customers confidence in what they receive from us."
Latest EMU Pro and PMU 24DL electronics systems from Ecumaster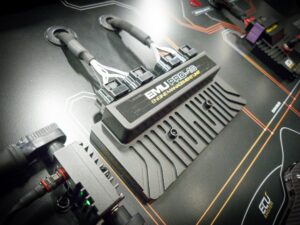 Poland-based company Ecumaster, a manufacturer of complete electronics systems for tuning and professional motorsport, showed two of its new products at this year's PMW Expo – the EMU Pro and the PMU 24DL.
Ecumaster's new EMU Pro unit is designed for use within the professional motorsport sector and features a comprehensive feature set to offer vast tuning possibilities. The solution is a standalone engine management system that has been designed to operate four-stroke, two-stroke or rotary engines with up to 12 cylinders (10 with fully sequential control). An advanced fueling model, including closed-loop short- and long-term trim algorithms, combined with a fuel film model helps to give exceptional accuracy for injector control.
Alongside the EMU Pro unit is the company's PMU 24DL, an enhanced power management unit that benefits from 24 high-side outputs and internal datalogging memory. All of the solution's output states, voltage and current information are transmitted via CANbus to dash displays to inform drivers of potential problems. Furthermore, all of the system's logged data can be downloaded from the device for analysis after a race or track event.